Trendnet's Mains Networking

Powerline communications where mains cabling is used for local data transmission is an extremely useful tool that has been around for quite a while. However, at the same time as other LAN speeds have increased so have those for powerline. Now TRENDnet is offering 500Mbps adapters that enable one to speedily assemble an Ethernet LAN to provide connectivity in different rooms around the house as a viable alternative to wireless -- especially in those buildings where wireless connectivity is difficult.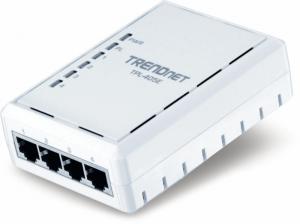 click image to enlarge
TRENDnet's Powerline AV technology is simple and convenient to use. Just plug an adapter into a local mains socket and it will automatically connect to other Powerline AV adapters on the same mains circuit. As it offers high speeds it can be used for tasks such as streaming HD video as well as more mundane, but important, tasks such as backing up files across the network.
With a TPL-401E single port adapter plugged into the mains and connected to my router using the Ethernet cable supplied a second adapter, in this case a 4-port TPL-405E (which acts as a local hub), was plugged into the mains at a point near to my laptop. This, in turn, was also connected using the Ethernet cable provided. After a few moments the two units synchronised so, having opened the browser and got on to the web, I was able to check that that the link was operating correctly.
In practice it is a simple task to set up a network connecting different PCs and printers etc. The company says that one should not use more than 16 adapters on a network as "additional adapters may decrease performance". I don't think that this is a limitation that will affect many users. However, I had no problem adding a third adapter.
The adapters are white in colour, rectangular and have a 13A plug on their rear face. The 4-port TPL-405E adapter is 105 x 75 x 65mm while the single port TPL-401E is slightly smaller. In addition to the 10/100/1000Mbps Ethernet port(s), each adapter has three LEDs: power, powerline link and Ethernet link, so one can see status at a glance. There are also reset and sync. buttons.
Although the TRENDnet adapters will work straight out of the box, it is sensible to change from the default encryption key of HomePlugAV. This is done using the sync. button in a manner similar to that one uses to set up WEP on a wireless router. Alternatively, one can use the windows-based setup utility which is provided on disc. As well as allowing renaming devices it also has an indication of link quality and shows data rate in Mbps as well changing privacy settings. Typically, I got link speeds of just over 200Mbps.
Overall, they could well be worthwhile in providing the means of solving connectivity problems around the house. As these products are only just starting to become available, prices have not really settled down. However the SRP of the TPL-401E and 405E are respectively expected to be £55 and £95.