Small Keyboards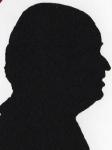 Here I am looking at two different but similar small keyboards from Brando in Hong Kong; the first is Wireless with IR Remote. The second is a wheel micro wireless keyboard mouse with added presentation abilities.
iPazzPort Mini Wireless Keyboard with IR Remote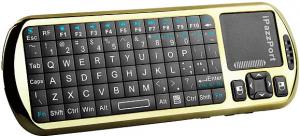 click image to enlarge
About the size of a TV remote at 14x6x1cm, it weights 107grams. However the functionality does not end there as it not only a 75key keyboard, to its right is a track pad under this two mouse key buttons and the ubiquitous five position joystick.
Believe it or not this little marvel is not finished yet as the back has another five position joystick with no less than another ring of six controls outside this, also a slide out section where the wireless USB connector is.
There is a small User Manual with the first ten pages in English to explain how much more this than just a small keyboard.
Currently I am reviewing a Smart TV and this keyboard enables me to enter text to bring up websites and enable searches. It can even replace other remote controls. So to call it a mini keyboard is a very large understatement.
It comes with a solid battery and this can be recharged from the supplied USB lead which fits into the left side of the keyboard. It can also be used as a presenter and it even has a built in laser pointer, the button to activate this is on the top edge when held like a keyboard and as it sits flush with the side cannot be activated by mistake.
No one will ever touch type on a keyboard of this size but I managed two thumbs quite well and nineteen of the keys have extra functions when used together with the 'FN' key all are clearly marked in blue. I am happy to use a trackpad and this one works well it is only 3.5x3cm but it does allow rapid mouse movements to happen.
If you have any device that needs some keyboard input this tiny device is a lot less cumbersome than a full size keyboard.
It is available from the link below for $38 (US) plus $3 (US) p&p whatever the size of your order.
http://usb.brando.com/ipazzport-2-4ghz-wireless-handheld-keyboard-with-ir-remote_p02657c034d15.html
Micro Multi-function Keyboard
This is also small at 15x5.5x1cm it weights even less at only 100grams. It has a 73 key keyboard with 25 keys having extra functions with use of the orange 'FN' key. There is a 3.7x3.7cm trackpad to the right of the keyboard.
The on/off button is on the left side with the USB dongle pulling out from the base near the USB connection (for charging the keyboard/presenter).
The trackpad worked well and I also tried it with the Smart TV I am currently reviewing and it entered text for URL or searching without problem.
The laser pointer can be useful when presenting and as the activation key lays flush it means it cannot be activated by mistake and it switches off as soon as you stop pressing but even though it is low power it is not a toy.
It is available from the link below for $40 (US) plus $3 (US) p&p however big or small your order is.
http://usb.brando.com/rii-mini-wireless-keyboard_p1476c34d15.html
Of the two – and Brando do lots of others – the first one is cheaper and has more functions but it is very slightly heavier.