Plenty of Storage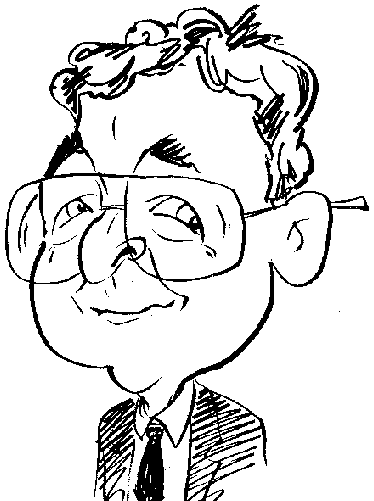 Review controls
My first disk-based computer stored its operating system and additional software on a single 360K floppy (yes it was bendable) 5.25-inch disk. Oh how things have changed.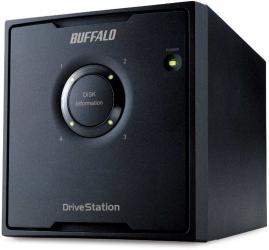 click image to enlarge
Sometimes when friends and colleagues get together, the topic of conversation can turn towards the subject of size. An occurrence of this situation arose recently but while the topic was size related, it was more to do with the lack of, rather than excessive, size. As we were gathered for the launch of a new hard drive, we were reminiscing about the first hard drive that we owned Sad to say my memory of a 20MB hard drive was easily trumped by a colleague whose first hard drive was a 5MB Shugart model – oh how things have changed. I was reminded of this conversation by the arrival of a hard drive product fromBuffalo. This was the DriveStation Quad.
I had been sent the model with the smallest capacity of the series. My review sample consisted of four SATA hard drives, each with a 1 terabyte capacity, giving 4TB of storage. There are two other models in the series with capacities of 8 and 16TB. Not only do you get masses of storage space but this DriveStation Quad product also features the latest USB 3.0 technology – USB 2.0 is supported.
Box-shaped, with dimensions of 149 x 154 x 233mm (W x H x D), the DriveStation Quad is predominately black in colour and, I'm pleased to report, of a matt rather than lacquered finish so avoiding an outbreak of "fingerprintitis". There is some light relief from the expanse of black with some grey lettering on the front of the unit plus LED lights representing the four drives and a blue power light. While on the subject of power, the DriveStation Quad does have some green credentials as it automatically switches itself on and off to coincide with the computer's status.
Before using this product you will need to remove some cardboard protective sheets from behind the unit's easily removable front cover. You can then attach the supplied two-piece power lead with a sizeable AC adapter and USB 3.0 lead. Both these connection sockets are located at the rear of the unit where you will also find the power switch which needs to be moved to the Auto position. It was noticeable that there was a low hum when I first powered up the review unit but this noise quickly disappeared.
The DriveStation Quad allows you to use the four hard drives in different configurations to suit your own particular needs. Five modes are available. You could opt to use the DriveStation in the same way you would use four independent drives or combine the capacity of each drive into a single storage pool. Other options are available to set up the DriveStation Quad as RAID 0, RAID 10 or RAID 5. Software is provided with the DriveStation Quad to carry out any reconfiguration which does include formatting the disks. You simply select the configuration you want and the software takes care of the formatting and set up.
| | |
| --- | --- |
| RAID 0 | Sometimes referred at as a stripe set – splits data and does not include parity information. |
| RAID 5 | Carries out block-level stripping with parity and data spread over all drives. |
| RAID 10 | Requires at least 4 drives. Carries out block stripping and block-mirroring as it combines the features of RAID 0 and 1. |
The review unit had been configured as RAID 5. I had no problem with this but felt I needed to check out the configuration process. As a result I changed the set up so that the four drives operated independently. The configuration process, which includes the drives being formatted and any data being deleted, took just under 2 minutes which did not seem excessive. Later when I reverted back to the RAID 5 configuration, this process proved to be far faster and only needed 41 seconds.
With such a large amount of storage capacity at my disposal, I decided to opt for fairly large chunks of data when selecting test data to be copied to the new device. The first test consisted of 29.4GB of data, made up of 9139 MP3 files spread over 534 folders. When copying this data with a four independent drives set-up, the test took 25 minutes 43 seconds. Switching to the RAID 5 configuration, the test was slightly faster as it was completed in 25 minutes 40 seconds. A further test, copying 59.1GB of video files, was completed in 40 minutes 57 seconds.
Included with this package is the DriveStation Navigator software. Along with the previously mentioned configuration utility, this software includes Turbo, PC, Turbo Copy, Backup Utility and RAMDISK Utility.
The DriveStation Quad, which is aimed at those with heavy data needs, supports both the Windows and Mac platforms. System requirements call for Windows XP or Windows Server 2003 and later or Mac OS X 10.3 and later. At the time of writing Amazon.co.uk had this product listed at £439.69.
http://www.buffalo-technology.com/products/external-drives/drivestation/hd-qlsu2-drivestation-quad/