ASUS G71V Powerful Notebook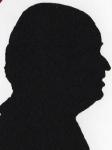 Review controls
Having recently reviewed a number of small and light notebooks this is somewhat of a culture shock. In fact a doubt anyone without personal transport would ever think of it as a notebook more of a desktop replacement.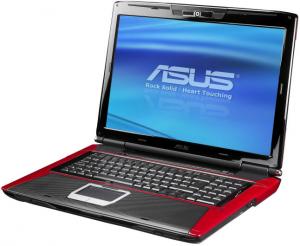 click image to enlarge
It is 41x29.5x5 and the weight is over 4kilos.
Going around the outside of it has the rear with the power brick input, HDMI port, E-Sata port, VGA connection and Ethernet port and finally the Kensington lock connection but you would need a very large poachers pocket to insert this into. The left side has a drop down door in red that reveals two USB ports and a mini Firewire port. Next is a card port and then the multi optical drive that includes Blu-ray.
The front has a couple of lighted vents as well as the speakers and a rather fiddly latch to open the lid. The right side has an Express Card socket, Bluetooth on/off switch and another red door that this time hides two USB ports and external audio sockets. The base has the 5200 mAh battery pack and another speaker. The screen is 36x23cm giving the notional diagonal measurement of 17iches and the display is 1920x1200 better than most desktops.
When you open the lid the red doors start to make sense as the keyboard surround is also red although there is no sign of this when the lid is shut and everything looks the conventional black. There is a 99 key keyboard that includes a separate numeric keypad something few is any other notebooks have. There are five LED buttons behind the keyboard with the rightmost one being depressed to enter Windows. There is also a Splashtop (Linux) near immediate boot facility that allows web browsing, music playing, photo viewing, Chat, Skype and Online Games access. How you differentiate being going into Splashtop or Windows depends on touching or pressing the rightmost button. Given the size of the unit the space around the keyboard is large 4cm behind, 3.5cm clear on either side and a massive 11cm clear at the front. The trackpad is 8x4.5cm and mounted just left of centre of the front space. There are several things that can be shown behind the keyboard the most useful of which is the % remaining of battery. I found that is you used 1% percent minute of battery you were not using the unit for any intensive work. Certainly viewing DVD or Blu-ray films the battery lasted only a tad over an hour.
Unless you like your unit lit up like a Christmas tree you need to adjust a setting in one of the utilities. This however has a strange side effect when running on batteries that you get a sort of off white background with the taskbar hidden and no icons shown on the Desktop. You need to unclick the relevant selections and then reclick them to get a normal display.
I got the 'new user' experience although the unit I was sent was not new. First the Vista Ultimate setup and install good for at least half an hour and then you need to install the Win DVD BD for Asus software from the supplied media but any thought of viewing a DVD or Blu-ray should be put to the back of your mind as another CD is needed to install a huge range of drivers and utilities luckily there is an install all option but this takes a good while so once started why not go and have lunch.
The first couple of Blu-ray items I tried did not work (even after the utilities) but eventually I managed to settle down with a recent film and this ran correctly.
It is supplied with a pair of 500GB hard discs split into 'C' 'D' and 'E' the 'C' being 455GB and 'D' and 'E' 232GB each. The CPU is a Quad Core QX9300 running at 2.53GHz. There is 3GB of RAM (although the sticker on the unit says 4GB. The overall Windows Experience is 5.5 made up of Processor 5.9, RAM 5.9, Graphics 59, Gaming Graphics 5.6 and Hard Disc 5.5.
Providing you are using this unit powered it will be suitable for most uses – including gaming – but on batteries not good.
Doing my Internet searches found the Asus G71V at a best price of £1339.99 from the first link below. Few people currently are selling it so in time the price could well reduce.
http://www.expansys.com/p.aspx?i=176163
http://uk.asus.com/products.aspx?l1=5&l2=74&l3=763&l4=0&model=2415&modelmenu=1