Viewsonic 26 inch Panel VA2626wm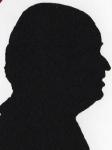 Having just finished the monster 28inch offering from Hanns-G this big unit seems almost normal in size. It has exactly the same resolution but instead of the notional 27.5inches diagonal measurement it is 25.5inches.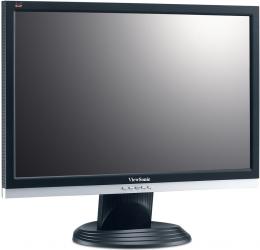 click image to enlarge
The screen is 59x40cm the actual internal measurements are 55x24cm giving the notional 25.5inches diagonal measurement. Certainly a good bit smaller than the Hanns-G item as I know by the amount of extra space I have on my desk. The base is near round at 26x24cm and this raises the screen by around 8cm from the desk. There is around 10degrees of forward movement and about 30degrees of back movement so if you sit either above or below you should be accommodated. The weight with stand is only 7.4kilos.
It has small internal speakers that can be connected via a standard 3.5mm jack lead or by using an HDMI cable as this carries sound as well as video. The connectors on the rear are D-Sub, Digital and HDML. Also, as mentioned the audio connector as well as the mains lead. I was a little disappointed as the D-Sub only pushed on and more than once during my tests it lost contact. I expected it to screw in and there was nothing for it to screw into.
The screen resolution was 1920x1200 and without recourse to the software or any manual the four buttons on the bottom front edge of the screen surround were easy to use and navigate. Between these four (centre of five is another push button on/off that glows blue when power is on and red when it has power but no signal.
Referring again to the Hanns-G this had HTML and D-Sub some would say this is both Digital and Analogue and while of course it can take output from any HTML device I only call a device Digital (as far as a PC is concerned) when it has a Digital connector like this Viewsonic offering does.
I have two systems on my desk controlled through a KVM switch and switching between the units is swift and efficient. Of course with the 16:9 resolution that is 'standard' these days then it is my duty to watch a DVD or three and doing so gives a window 29.5x53cm when viewing full screen.
Interestingly it can be setup for two different displays, ideal should you connect a laptop and you can store different resolutions and if applicable refresh rates etc all from the four buttons at the base of the screen. In fact the menu has no less than eight options Auto Image Adjust, Contrast/Brightness, Input Select, Audio Adjust, Colour Adjust, Information, Manual Image Adjust, Setup Menu, Memory Recall. I found that the Auto Image Adjust worked fine. When it came both the Brightness and Contrast were way to high for my liking as the previous reviewer had obviously wanted to see how bright he/she could get it and they were both at maximum (100) if I tell you that my preferences were 63 and 60 you will see how much more thre is in reserve.
The contrast ratio is 800:1 and the brightness 350 cd/m2. For HDMI the default is 5400k but both 6500k and 9300k are possible. The refresh rate is 5ms but it seems better than that to me.
I used this for standard word processing and spreadsheet use as well as some graphics and CAD as well as a good bit of Internet and email use. I could not fault it scrolling long web pages and I was just as happy with the image after a ten hour day as when I switched on.
This is a nice monitor, kind on the eyes (when the contrast/brightness are not set too high) and images were sharp and clear.
Should you be looking for a large panel with both Digital and Analogue inputs then this panel should certainly be on a very short list.
Doing my Internet searches found the Viewsonic VA2626wm at a best price of £195.90 including free delivery from the first link below.
http://www.it247.com/Product/111-VA2626WM/?channeltype=TFTDisplays&level1cat=Computers&prodid=111-VA2626WM&level2cat=DesktopsandWorkstations&campaign=kelkoo&utm_medium=TFTDisplays
http://www.viewsoniceurope.com/UK/Products/LCDE2/VA2626wm.htm