LG Slim Portable GSA E50N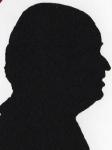 Review controls
This is a USB2 CD/DVD recorder/player. For anyone with only a CD or a DVD only player this is 'All Modes' for recording and playback. should you not have suitable software it comes with a variety.
Buy Now
LG Slim DVD Re-writer
£47.65 from DABs

£54.60 from Amazon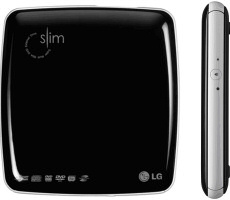 It is small and quite stylish and is automatically recognised so unless you need some of the software just plug it in. I found that the power drawn was low enough not to require a power supply however one of the extra USB leads that also draw power (takes two USB ports) is supplied if necessary. It has a 2MB cache and of course under run protection.
It is 16.5x15.5x2cm, add 2cm to the first figure to insert the mini USB lead and that's it. The top and base are white while the edges are black. Looking at various information it seems that LG also do a black model with white edges. It weights around 400 grams.
There are two ports on the rear one a standard mini USB the other a power input that goes to a standard USB port but only to add power if required. This is only likely to be needed for people working from a hub (something you really should not do for a device like this) but in all my tests using USB ports I never needed it and the documentation says much the same.
The only control on the face of the unit is a button to insert/remove the media. To the left of this a small LED when the media is being accessed and to the right the pin hole means of retrieving media if for some reason the unit will not open.
This is an 8x DVD + or -R writing speed unit. It also writes DVD+RW at 8x, while DVD-RW write at 6x, this is also the speed it writes DVD+R DL and DVD-R DL. DVD-RAM write at 5x. While CD-R and CD-RW write at 24x.
I tried the unit with a variety of media and while I only tested it on systems running XP Professional. It is stated to work with XP Home and Professional, Vista both 32 and 64 bit versions and Windows 2000. The other requirements are at least 256MB of RAM, 20GB of hard disc space, Direct X 9 or later and a true USB2 Interface. The minimum CPU is stated as Pentium III 1GB.
The software provided is Nero Express for DVD or CD recording including secure disc support. InCD this is packet writing software that can read SecurDisc. PowerProducer which is DVD authoring software and PowerDVD for DVD/Video playback. There is also a SecurDisc viewer and a PDF manual for unit.
For those new to SecurDisc it is described as an innovative technology which provides data protection and content access control on media through an optical drive software combined solution. It has the ability to digitally authenticate data.
Some of the SecurDisc features are password protection, digital signature, data integrity check, data reliability and copy protection. More info on this technology is available at http://www.securdisc.net
Don't let the above put you off it can still function using other software as a perfectly normal CD/DVD reader writer that can produce discs readable on any other drive should you require it.
The full name is LG External Super Multi DVD Rewriter GSA-E50N doing my Internet search found it at a best price of £47.65 from the first link below.
http://www.dabs.com/productview.aspx?Quicklinx=4Q0G
http://uk.lge.com/products/model/detail/dvdrewriter_gsae50n.jhtml