Haynes manual

A Haynes manual for those who would like to build a PC or those who would just like to know more about what is inside and why.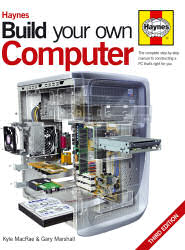 Haynes has just published the latest (3rd) edition of "Build Your Own Computer" with the sub-title "The complete step-by-step manual to constructing a PC that's right for you". It is not before time as, even though the 2nd edition was only published in 2005, the world has moved on with Microsoft having released Vista, the latest version of Windows, and dual-core processors are now the norm from both Intel and AMD.
From the title it would be easy to assume that it is just a set of instructions similar to those you would get with a flat-pack piece of furniture. In fact, it is a lot more. It discusses the benefits of building a machine, provides an explanation of the various elements that go to make up a machine as well as containing two projects for actually building machines.
The authors, Kyle MacRae and Gary Marshall, explain that one should buy the latest technology in key areas, but that everything else can be a compromise according to your needs. It points out that, while you will probably not actually save money over buying a ready-made PC, you will benefit from having a machine that is tailored to your needs. Furthermore, the machine you end up with will be upgradeable so, to a first approximation, it will be future-proof.
The section on selecting hardware has short chapters on processor, memory, case video card etc. and, as well as discussing performance, also includes photographs. This will be particularly useful for those who haven't previously looked closely at the inner workings of a PC. The final chapter in this section is entitled "The Perfect PC" and is effectively the component list for the two project computers -- one a high-end dual-core machine and the other a small form-factor home entertainment style PC -- and an explanation of why each component was chosen.
Subsequent chapters take one through the various stages in assembling the PC and then installing Vista; troubleshooting before discussing the fact that, while Windows Vista Premium Edition incorporates a large amount of functionality, additional software will be required. It then points out, for example, that software such as Open Office is both free and freely available as an alternative to Microsoft Office.
I'm reluctant to say that this book is all you'll need to buy all the components and then build a PC if you have never had any previous experience. However, it does appear as comprehensive as is reasonably practical in an A4 size 166 page book priced at £17.99. For those of a technical bent, even if they don't actually intend building a machine, it gives a very useful understanding of what is under the bonnet.
RRP: £17.99, Format: Hardback, ISBN: 978 1 84425 457 6