3Dconnexion's SpaceNavigator helps you fly through Google Earth

Published Sep 20, 2007 Author
petew
Review controls
If you've played with Google Earth, you've entered a 3D world within your computer. You navigate that world using buttons and icons on the Google Earth interface and it can almost feel that you're flying. The sensation could be better though...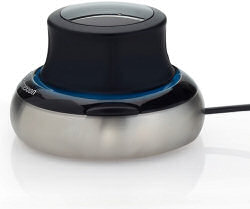 For one thing you're periodically looking from the world to the controls to click on rotate, or zoom or move or whatever. SpaceNavigator, from 3Dconnexion (part of Logitech) can help with this. It gives you a single control that allows you to manipulate all the various aspects of navigating in three dimensions : pan, zoom, tilt, spin, roll, move. That's a lot from one control. Imagine you're in a helicopter. Any movement that helicopter can make, you can make with this single control and do so without removing your hand.
Impressed?
It takes a little getting used to. While it works with a number of 3D applications, Google Earth is an excellent place to experiment.
What is the SpaceNavigator?
From the picture you should see it looks like a short, stubby joystick. The base is very heavy and, in this day and age of cheap plastic, wonderfully well built. It just feels wonderful to touch. Functionally it's part joystick but goes much further than that. In addition to the standard two-dimensional navigation of a traditional joystick you have other options :
Pull up away from your desk and you move vertically up. Push down into your desk and you descend
Twist left or right and you change the direction you're facing without moving location
Push the stick forward without tilting it and you start to move forward
Normal joystick movement of tilting forward or back change how you're tilting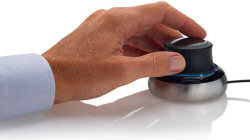 Sounds a little complicated. It's actually quite natural and you very quickly adjust to moving in three dimensions. Maybe that's partly because that's how we work in the real world. In many ways the control movements mimic how you'd actually move your head.
As testament to ease of use, a non-technical person here installed the SpaceNavigator and was merrily flying around Google Earth with no help at all when I arrived back one day. It is that easy.
But what's it for?
Google Earth is interesting, but once you've looked at the house in which you were born, where you now live, your parents house and the site of the most recent natural disaster and flown down the Thames at 100' the excitement does wear off, and in itself it's hardly grounds for buying what could end up being an expensive one use toy!
Well of course there is more to it than that!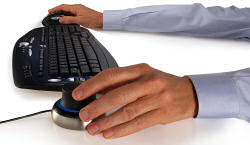 The real market is for those individuals that have to work in a 3D environment. Architects for example. The SpaceNavigator has been integrated with a number of applications, including those from Adobe, Maya, Autodesk, Dessault Systemes, PTC, in fact according to 3Dconnexion, the makers of SpaceNavigator, the product has been integrated with over 100 popular 3D applications. There's a list of them here.
The drivers work on Windows, Mac OS-X, Linux and Unix, but you won't find many supported applications on the latter!
One example is another free application from Google - SketchUp. This is a rapid development environment for 3D models. You do all the drawing in 3D, can import others models into your own and effectively create your own 3D world. Take a look - it's worth it!
Unlike Google Earth - there is more to SketchUp than flying round the world. It's another 3D world, but in this you have to create it yourself. Navigating this world with a traditional mouse is more cumbersome. All the standard movements are there but for each you have to click on a 'mode'. Cumbersome! Click zoom - get closer - click rotate - rotate - click tilt - tilt. I think you get the idea! This can all be done without any clicks using the SpaceExplorer.
Installation problems?
Things weren't all plain sailing with SpaceNavigator. My main problem was with software integration. In my case I already had Google Earth installed then installed the 3Dconnexion software and Google Earth worked fine. I then installed Google SketchUp. It didn't matter what I did - I couldn't get the SpaceNavigator to work the new software. In the end I completely removed the drivers and reinstalled from scratch and everything leapt to life!
It would seem that applications must be installed before installing SpaceNavigator drivers.
Personal or Standard edition?
There are two versions of SpaceNavigator - Personal Edition and Standard Edition. 3Dconnexion sells the first for around £39, the second for £82ish. The difference? None at all as far as I can tell - except in what you are allowed to do with the product.
Personal Edition is for non-commercial use. Standard Edition allows you to use it as part of your work. If you are an educational establishment, an individual or researcher you can use Personal Edition. If you're an architect, designer or other paid professional you have to buy the other license.
Personally I think this is a very 'Bad Idea' on the part of the manufacturer. What you have effectively bought is a piece of hardware - it's no different to a mouse, graphic card, CPU or memory chip. Once you have that hardware and the software shipped with it I disagree very strongly with an attempt by the manufacturer to then tell you what you can do with it.
By way of comparison, Microsoft sell a 'student edition' of Microsoft office. There are various ways you can qualify : be a student, a teacher etc. Once you've bought it though Microsoft do not attempt to dictate how you use the software. Neither do they revoke the license when you stop being a teacher and insist you buy the full license.
So, putting that aside, as an individual is £39 an amount I'd pay for this product? If I was studying to be an architect, or other professional and expect to make some money then yes. It would be very difficult to justify this solely to fly around Google Earth, but then that's not really where they are aiming this product! The products it's been integrated with are for the most part professional software suites. Now if they were to integrate this product with many of the excellent 3D games out there it would be a great purchase, and cheaper than many gaming joysticks.
Professional use
As a professional making use of one or more of the supported applications the cost of £82 for a space navigator would be almost insignificant by comparison to the software itself - and I can really see benefits in it's use. Firstly your own productivity in being able to appreciate, navigate and improve your design, but also in your ability to show it off to your clients! A definite 'wow' factor.

Conclusion
Navigating Google Earth with this product is a great experience - give it a go if you get a chance. Game navigation would be even more fun and I hope the manufacturers pursue that as an option (maybe personal edition - lots of games drivers, professional edition - lots of CAD drivers?). As a tool for the professional it's got a lot of potential and I'd recommend those people take a close look.
The product is also beautifully engineered and designed to last.
Full details of the product are available from the 3Dconnexion web site :
http://www.3dconnexion.com/products/3a1d.php
Pricing does vary from those above. Amazon sell both products below the prices above : the personal edition for £34.66 and the 'standard edition' for £72.06 :
Personal Edition from Amazon : http://www.amazon.co.uk/gp/product/B000LB41BM
Standard Edition from DABs : http://www.amazon.co.uk/gp/product/B000LB7G00