Fujitsu Siemens Lifebook Q2010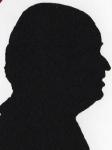 You tend to remember a product that was very good or very bad, my last Fujitsu Siemens notebook was definitely the former, so when another arrives it is met with much enthusiasm.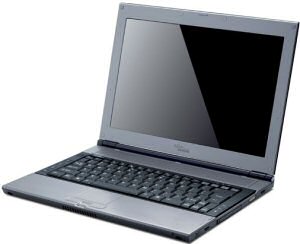 The previous notebook was in fact an excellent dual product being both notebook and tablet PC (Lifebook 1510 tablet notebook 5th April 2006) it was perfect in four out of the five smiley category's.
I tend to think of a notebook as something to travel with, travel to me does not mean lugging everything into a car. To me it means public transport and walking. So one of the most important criteria is weight or rather lack of it, the other is lack of size.
This jet black offering is only around 1.5kilos and it's dimensions are 29.5x22x2cm. The two centimetre thickness is only exceeded for the rear four centimetres where the battery extends this by another centimetre. My unit was supplied with the optional (double life) 6 cell battery so no doubt the 3 cell battery does not extend it. The screen is 26x16.5cm giving the diagonal measurement of 12.1inches. I have never understood why 14 and 15 inch screen models cost less than 12inch models.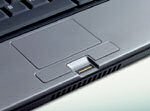 Fingerprint reader
It has an 83key keyboard with the alpha keys being full size. To the left of the keyboard are five other buttons including the on/off button. The area behind the keyboard has some reasonable speakers while beside the right of the keyboard are three pin hole LED's. In front of the keyboard is a trackpad - slightly left of centre - with a fingerprint scanner in front of the buttons.
The left side has AC power connector, SD card slot, external microphone and headphone sockets and volume control. The front has a slider to allow you to turn wireless on or off. The right side has a four pin FireWire and two USB sockets one at either end with a PCMCIA slot and external monitor connector in between. The rear has nothing. The base has a connector for the docking station that is probably almost an essential as you will have noticed I have not mentioned Ethernet or a CD or DVD.
This is only slightly larger than the Lifebook itself at 31x26.5x2.5 it weights only 900grams so could go with you a lot of the time and still the total weight would be less than a lot of other notebooks. It has a DVD multi drive as well as Ethernet, external monitor, four USB and microphone and headset ports on the back.
I can understand how the DVD drive could be not always required but the Ethernet port is a little more puzzling, however with Wireless and Bluetooth I suppose you could just about travel without it.
So far it satisfies the size and weight requirements, however the 2010 has another feature that few other notebooks currently have the ability to connect to the outside world where there are not Wireless hotspots by putting your mobile SIM in providing you have a service that allows Internet connection such as Web'N'Walk offered by T-Mobile. While this should work with a little utility to give 3G the best I ever managed was GPRS speed, however if you have no other connection method in say a powercut this could get you out of a jam.
Briefly the specifications are a 1.2GHz Ultra low power processor, 1GB or RAM, 533MHz front side bus, 60GB hard disc (55.8GB) and it comes with some utilities and Windows XP Professional.
The six cell battery is stated 'up to 8.5 hours' I managed seven using normal settings.
The price from the first link below is £2384.90 including free delivery. A shame really that this nice notebook is again spoiled in one area only the price.
http://www.shopfujitsusiemens.co.uk/sess/utn;jsessionid=1545891cc5d7867/shopdata/Notebooks/Notebooks/Professional/Lifebook+Q+Series/product_overview.shopscript
http://www.fujitsu-siemens.com/campaigns/lifebook_q2010/index.html