Edifier M1380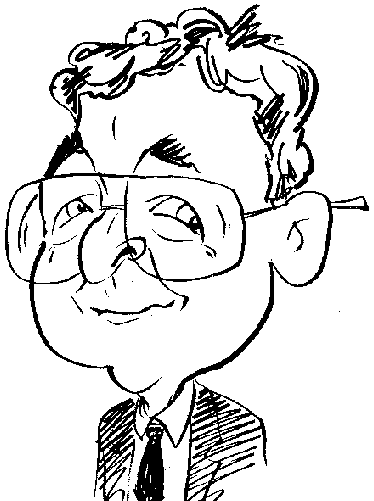 Review controls
Making a change from the numerous Bluetooth speakers that have come my way recently is an offering from Edifier that can be purchased as part of your weekly Tesco shopping expedition.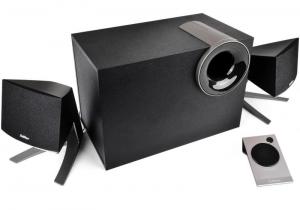 click image to enlarge
The Edifier M1380 is a 2:1 audio system. Opening the box reveals a subwoofer and two free-standing satellite speakers plus a wired volume controller. There is also meant to be a User Manual but this had gone missing as the review unit travelled between various journalists for testing purposes.
The subwoofer, with dimensions of 158 x 225 x 252mm (W x H x D), has a fairly solid appearance. This box-shaped unit is predominately matte black in colour apart from a silver tubular cylinder positioned in the top right corner. This downward firing subwoofer is constructed of wooden medium-density fibreboard, to help reduce vibration issues, and features a 4-inch driver.
Located on the right side panel of the subwoofer are the various connection options plus the bass volume knob and an on/off switch. Two permanently attached leads provide the means to attach to a mains power connection and a link to the wired volume controller. Sandwiched between these two leads are standard 3.5mm jack sockets for the left (white) and right (red) satellite speaker outputs.
Decked out predominately in matte black, apart from a silver logo and silver strip along the base of each unit, the two satellite speakers are mounted on "V" shaped stands. The combination of stand and speaker unit creates a dimension of 64 x 140 x 112mm. These satellites are permanently fixed so that they present a slight upwards looking face to help direct the audio output. Each satellite features a tweeter unit consisting of magnetically shielded 50mm x 90mm drivers.
Permanently attached to each satellite speaker is a lead measuring 219cm for linking the unit to the subwoofer. This length should be enough to ensure that stereo output is of a reasonable standard. Colour coding is used to ensure that the correct speaker is attached to the appropriate subwoofer connection with the jack plug of each speaker being coloured the same as the socket into which it needs to be inserted.
Audio input to this speaker system arrives via the wired volume control. This wedge-shaped device has dimensions of 94 x 40 x 56mm with a black and silver colour scheme to match the rest of the system. The silver front face of the volume controller features a large circular black wheel for volume adjustment and a smaller circular black mute button. When volume is being delivered, a small green LED will glow and then disappear when the mute feature is activated. Located on the rear of this controller is a jack socket for attaching a set of headphones for a private listening session.
This volume controller has two permanently attached leads. One of these leads, measuring 131cm, is firmly attached to the subwoofer. The second lead, with a length of 144cm, links to whatever device is providing the audio. This source can be from any device that has a 3.5mm jack socket for its audio output to a headset. As a result you could attach a smartphone, tablet, MP3 player to this speaker system. You could also use the M1380 as the speaker system for a computer.
Due to its basic functionality and performance, the Edifier M1380 is firmly entrenched in the budget market sector. It is not going to appeal to Hi-Fi enthusiasts but then it was never meant to. Used to provide background music and delivering audio from various casual games, the M1380 can perform adequately. Currently the Edifier M1380 is available from Tesco priced at £39.99.
Frequency response Satellite150Hz – 20kHz
Edifier M1380 Speaker System
Power output
RMS 2W x 2 + 4.5W x 1
Frequency response Subwoofer
20HZ – 170kHz
Distortion
<0.5%
Input sensitivity Satellite
350mV + 50mV
Input sensitivity Subwoofer
250mV + 50mV
Subwoofer
4-inch (106mm), 6Ω
Tweeter unit
50mm x 90mm, 4Ω
http://www.edifier.com/int/en/speakers/m1380-m1385-2.1-computer