Soda Stream Revolution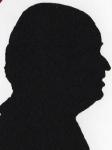 For anyone of a certain age this was an iconic brand when you still paid 7 shillings and 6 pence deposit when you got a syphon of soda from the off licence. Long before you could buy a bottle of soda water from a supermarket.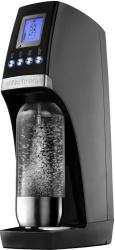 click image to enlarge
Yes a name that seemed to disappear from most people's vocabulary. In fact when the courier delivered it to me he said 'I thought this was a name from the past but I have delivered lots of these just recently'.
Of course it's very different from the upright chromed offering only now seen in antique and collectables stores and auctions.
The first big difference is the gas canister, where the old units has a small single use canister the Soda Streak comes with a large multi-use bottle and you can even decide the amount of gas to be injected according to the extras being added.
The unit is 43cm tall at the front and 40cm at the back it is 14cm wide and 25cm deep. Its weights 3.6kilos with the 1.2kilos gas cylinder inserted.
Fill the supplied dispenser bottle with water to the level indicated, then you select the amount of carbonisation – choice of four – these are chosen below a 5x3cm LCD screen by showing a glass with fewest to most bubbles in. While you can of course drink just carbonated water there are – according to the Instruction Manual – eight different flavours available. I was sent a package of six and once carbonated you pour a measure into the bottle to achieve that flavour. The amount of carbonisation varies according to the drink type and a table is shown with the suggested level.
The supplied proprietary mains lead fits under the unit and must be channelled under it to ensure the Soda Stream still sits flat.
The first 22 pages of the Instruction Manual are in English and explain everything you need to know. I would suggest you read them as unsafe fitting of the gas bottle could be dangerous.
The unit is supplied with a 60litre CO2 bottle but if you use it a lot then it can be accommodated to fit a 130litre CO2 bottle by removing an adapter in the base of the back of the unit and this is well described and illustrated in the Instruction Manual.
The six flavours I was sent all come in 500ml bottles which is stated to make 12litres of flavoured waters. You use one capful of the flavour to make a full bottle of carbonated flavoured water.
Bitter Lemon, Highland Fizz, Sugar Free Lemonade, Ginger Beer, Dr Pete and Tonic were the flavours I tried, some were more to my palette than others but that is going to be the case when you offer any person or group of people six different flavourings. I see no reason why Gin and Tonic or Gin and Bitter Lemon could be an adult use of the Soda Stream. The bottles of mixer are called Soda Stream Soda Mixes.
When I came to finding prices it seems there are lots more than just eight Soda Steam Mixes. The prices I found on the link below varied between £18 and £23 for six bottles of the same flavour. A multi pack of sachets (12 different) is available for £15.95. Extra empty bottles as you may not immediately use all of a single carbonated drink are available at £10.29 for two. While a replacement 60 litre CO2 cylinder is £19.99. All can be found by entering Soda Stream Flavouring at www.amazon.co.uk
So a 1 litre bottle full of Soda of your choice cost around 13p but you then need to add the cost of the gas and the cost of the main unit to calculate if this is better value than buying disposable bottles of a flavour such as tonic water from the supermarket, you have to know how much you use to calculate your costs. I know I often see people with trolleys full of twelve or more large bottles of cola and of course these all need to be lugged home.
The Soda Stream Revolution is available from the link below for £149.99 with free delivery.
http://www.amazon.co.uk/gp/product/B009PKGXXE?ie=UTF8&tag=gadge0a-21&linkCode=as2&camp=1634