Trendnet's Hi-Res Surveillance Camera

An Internet camera can be a useful remote access security device for when a home or office is unoccupied. The Trendnet TV-IP672WI is a high resolution model for indoor use with pan and tilt movements and so can provide useful coverage over a wide area. Having wireless connectivity, one or more of these cameras can easily be added to one's network to provide useful surveillance that can be monitored over the Web.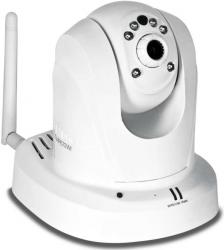 click image to enlarge
The unit is off-white in colour and is roughly 5 inches tall. It is provided with a wall/ceiling mounting bracket to which it should be secured with two screws. Alternatively, it can just be placed in a convenient place, or even moved around, as circumstances dictate. The camera, which has a resolution of 1280 x 800 WXGA, can pan through 340 degrees and has a tilt range of 115 degrees. Around the manually focussed lens is a ring of six infra-red LEDs which provide illumination over a range of about 25ft when the built-in light sensor detects that the available light is inadequate.
The cable attached to the mains power adapter is 5ft long as is the Ethernet cable supplied with the camera. Initial setting up is normally done via Ethernet and it is then usual to connect the camera via wireless. When setting up wireless there is a choice of security modes including WEP and WPA2-PSK as well as WPS. There is a built-in omnidirectional microphone and a socket for an external loudspeaker
The provided software provides a wide range of image control including flipping the image both horizontally & vertically and brightness & contrast. Different video profiles can be set up. These include 1280x800 at 30fps with either H.264 or MPEG4 encoding as well as lower resolution and frame rates which impose a less of a load on resources.
The images seen by the camera can be recorded locally on a microSD card (if one is present) or sent over the network. It can be continuous, on a pre-set schedule or triggered by motion with the option of sending an email alert. When triggered, pre- and post-event real-time snapshots or a video of up to 5 seconds before and 10 seconds after the event can be recorded.
This is important as, where there has be
The Trendnet TV-IP672WI offers 1280 x800 resolution, coupled with a four-times digital zoom, and a wide range of features and so lends itself to being a key element in an overall security system where its high resolution may increase the probability of identifying an intruder. Equally important, it can complement burglar alarms so as to determine whether there has been an actual break in or whether it is a false alarm.
At around £180 on Amazon, it is not cheap. However, many may consider that it is worth paying a premium price for the additional performance.