LED Reading Lights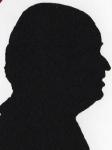 Review controls
A recent trip to the London Book Fair was to see the launch of a new book reader. However when walking round waiting for that presentation I found a very interesting stand with a number of gadgets to aid book reading.

click image to enlarge
TravelFlex LED
It is 30cm long, less than 2cm wide at one end and only 1.5cm wide at the head (light) end, 15cm of the length is only .5cm wide tightly twisted wire that can be formed and turned as you wish, it weights only 39grams.
The back end where a single 'AAA' battery is inserted also has an opening jaw that can grip anything up to 2cm deep.
So it can be clamped to a table or a headboard or even a book. The whole purpose is an LED light to provide a reading source. So how long does a single 'AAA' battery last, in my tests it was 22½ hours and even towards the end I noted very little dimming of the LED light before it stopped working. While it will run on rechargeable batteries the 20% less capacity of such units must be taken into account and you probably would get little more than 15hours between charges.
One illustration on the box is of the clip end attached into the spine of a hard backed book and the flexible length doubled to give adequate light to read both pages without movement then simply turn the page to view the next two etc, it just remains in place, the grip is firm but it does not damage the books spine in any way.
There is just one control at the head end on the reverse a single slider switch for on/off. The TravelFlex LED Book Light is available from the link below for £12.50 and while mine was light blue it seems there are six colours to choose from.
http://www.trinityxtras.co.uk/index.php?main_page=product_info&cPath=48_49&products_id=216
Mighty Bright Orchestra Light
This can run on 'AA' batteries (supplied) or from mains lead (supplied). If you think of the light above a music stand then you have it. This has two levels of brightness and while the stated time of 14 hours for the higher figure sounds good I actually achieved over 32 hours at the lower level which is still adequate to read by.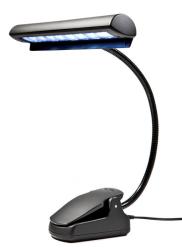 click image to enlarge
It is actually a far meatier version of the book reading light above. The clip end is 9x5x5cm which will open to 3cm; the flexible part is 28cm long and around 1cm across but still bendable into any reasonable shape. The light end has nine LED's in a line, this is 20.5cm long and has a .5cm bar to stop light escaping in unwanted areas.
The on/off slider on the back of the light has three settings off/on lower/on higher. While of course it is sold to work flooding a music score it can be used for other purposes and it gives a good light throw to achieve this.
In the box you also get a zip up bag/case to transport the light about and a 13amp plug with a four metre lead attached for those occasions when power is available and this means it could be used 24:7 without need of batteries.
For some reason music lights are always black and this is no exception. The throw of light is stated to cover up to four sheets of music however most music stands struggle to show more than three unless the music sheets are on very thick parchment.
This is a very useful piece of kit for any musician as light in certain venues is very poor and they are often expected to read badly written scores at extended distances, this will make their job a little easier. The Mighty Bright Orchestra Light 'The Musicians Light' is available from the link below for £62.99.
http://www.trinityxtras.co.uk/index.php?main_page=product_info&products_id=394
This company do a whole range of items for books – even something to hold books open – lights for home / music use as well a whole range of music accessories. I will be looking to review further items from them.