Bosch PMF 10.8 Li Multifunction Power Tool

Review controls
This gadget is highly recommended as a great value item - you could invest in several job-specific power tools and find that each one in itself was not as accomplished in its job as the Bosch PMF. This is a genuine all-rounder and it is hard to find fault with its design, ability and versatility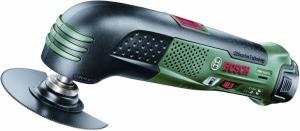 click image to enlarge
Teutonically solid and rugged in your hand, the Bosch PMF 10.8 Li power tool can tackle a multitude of jobs around the home and is also built well enough for professional use. Being a sawing, cutting, scraping and sanding tool, with just this and a power drill you could take on most of the DIY tasks you might need to tend to around your property.
This little tough guy comes in a rigid green plastic carry/storage case complete with the following contents:
The Bosch PMF 10,8 LI device itself
1 10.8-volt Lithium-Ion rechargeable battery
A battery charging station/pod
1 plunge-saw blade
1 segment-saw blade
1 sanding plate
6 sanding sheets (2 each of 3 different grades)
Allen key (for removing/swapping the tool heads).
Instruction manuals
Most DIYers have probably owned something made by Bosch at some time. Bosch is one of those comparatively few brands that has gained massive respect in the UK and elsewhere because of its design values and long-lasting quality throughout the whole range of products. This excellent tool continues in the same tradition. Ergonomically designed and strongly built with non-slip rubberised grips, it is easy and comfortable to hold and has a real feeling of quality and competence.
So - what does 'oscillation' mean to you?(!) Well, this is the driving principle behind tools such as the PMF. Where a tool like a drill or disc sander has a spinning shaft that rotates at a constant or variable speed the PMF instead turns its shaft in alternate directions between a set angle of movement – which, according to the manual, happens to be around 2.8 degrees. Oscillation-driven tools don't have the tendency to "run away" with
you or shake your arms apart – making them much easier to precisely control, and more safely operated. In spite of the fact that there is no 'dead man's handle' style of off switch I found this a safe and easy tool to use.
In addition to the large thumb operated on/off switch there is one other control and it is a goody! The infinitely-variable speed control does just what you'd expect it to do, allowing subtle matching of the Bosch's oscillation speed to the job in hand. But I loved the extra 'E' Eco setting included which, when selected, causes the PMF to act rather more intelligently than before. In 'E' mode the clever little thing matches its power output to the task in hand so that the more resistance encountered in the work results in a commensurate increase in motor speed. This also extends the usable time for the Lithium-Ion battery.
And speaking of the battery, as you'd expect from this power technology, you can recharge it whenever you like without fear of creating the dreaded 'memory' effect that older NiCad batteries were prone to - so it is easy to keep it completely charged at all times by popping the battery into the charger for brief spells as you go along. The clear charge indication system gives you a progressive and accurate idea of just what is going on in the charge department too.
In the brief but comprehensive set of experiments I tried with the Bosch I found that it works incredibly well. Because of its design it can cut in awkward places where even a tiny hacksaw could not reach. The two styles of cutting head supplied would cover almost any imaginable job. The sanding head and pads give a smooth and controllable result.There are many other accessories available including a vacuum attatchment so that the tool will even clear up after itself!
This gadget is highly recommended as a great value item - you could invest in several job-specific power tools and find that each one in itself was not as accomplished in its job as the Bosch PMF. This is a genuine all-rounder and it is hard to find fault with its design, ability and versatility. It doesn't just do several things - it does them with flair, enabling previously impossible tasks to be performed. Whether it be wood, masonry or metal, it cuts with ease. It sands and scrapes beautifully. Other power tools will certainly be turning green with envy!
RRP £129.99.