Bosch Uneo cordless power drill

Published Nov 30, 2008 Author
petew
Review controls
A light-weight, powerful and versatile cordless drill from Bosch making use of the latest in battery technology.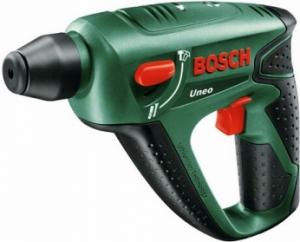 click image to enlarge
The Uneo joins a growing trend in power tools using Lithium-Ion batteries. These provide much higher power density than traditional Ni-Cad or the more recent NiMh cells. They also avoid the memory effects of the older technology resulting in every shorter usable charge cycles.
Bosch make use of this technology in the Uneo to provide a compact and powerful hand-held drill, ideal for the DIY enthusiast. The device weighs 1.1Kg with the battery integrated into the body of the product and so you do not have the option of having one battery in use with another on charge and so this product is more suited for home projects rather than for trade use. The battery stores 1.3Ah and delivers this at a very healthy 14.4V providing a very good level of torque to drive a screw into the most difficult of materials. A supplied mains adaptor plugs directly into the drill and will take around three hours for a full charge.
The Uneo is provided in a hard case and comes complete with four screw-driver and four drill bits. The drill bits are 5mm and 6mm metal and 6mm and 8mm for wood. This is a good basic selection. The chuck is of the key-less variety capable of making use of hex shank bits and those for the SDS-Quick system. Unfortunately you are not going to be able to make use of your existing standard drill bits. Countered against that, the supported system have the huge benefit of never being able to slip because you failed to sufficiently tighten the chuck.
The trigger on the Uneo allows you to vary drill speed up to 900 rpm and separate controls allow you to select a hammer function for masonary drilling and another to control the direction of the drill (more important when being used as a screw-driver).
In use the Uneo is well balanced and the combination of pistol grip and the rest for your other hand provides good support and allows for accurate drilling. Although 1.1Kg is still not an insignificant weight I didn't find the Uneo too hard to hold one handed while I positioned a screw with the other hand.
On top of the drill there are several LED indicators. A pair of these, shaped as arrows light when in use and indicate the direction of the drill bit. The other light indications battery status : green for more than 30% remaining charge, red for less. This is particularly useful for planning work - with previous products I've been part way through and the first you know of a low battery is the device failing to drive in a screw at a crucial moment.
The Bosch Uneo is a very well made DIY product ideal for those planning a few home projects in the near future. From Amazon it's priced at £114.95 including free delivery on the following link:
http://www.amazon.co.uk/gp/product/B00264GIH2?ie=UTF8&tag=gadge0a-21&linkCode=as2&camp=1634