Rowenta Ultrasteam

Review controls
The Rowenta Ultrasteam is a hand-held steamer that will quickly remove the worst creases and wrinkles from clothes.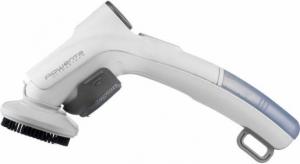 click image to enlarge
All too often when getting clothes out of the wardrobe we find that they have developed a crease or two but, unfortunately, there is not really time to get the ironing board out and run the iron over the garment. The Ultrasteam makes it a relatively easy task to remove the worst of these creases.
It is about the size of a hairdryer, with a water reservoir in the handle. A fabric brush surrounds the business end from which the steam emerges and there is a removable lint pad to remove any lint, fluff or hair prior to using the steamer.
With the wrinkled garment on its hanger, the cloth is gently pulled tight with one hand. The steamer is applied and the brush stroked slowly down the garment. The combination of steam, tension and the brushing smoothes out the worst of the wrinkles. I found that two or three slow strokes were often needed over each part of the garden with the tension being held for just a few seconds after the steam was removed. Once the whole garment has been treated it is left hanging for a few minutes only to cool down and the slight dampness to dissipate.
There is an adjustable control to set the steam output to a level to suit the cloth being pressed: maximum for cotton/linen; intermediate for silk/wool; and minimum for synthetics. The hardest test that I gave it was on a cotton shirt that, without ironing, looked terrible. Although the result was not perfect, I was able to remove the majority of the creasing in a short time and so I was able to wear it without conventional ironing.
The instructions, which seem to cover all important matters, stressed the importance of checking the labelling on fabrics before using the steamer. They recommended that acrylic, nylon and other synthetic fabrics be tested in an inconspicuous area to check that they won't be damaged by the steam. In addition, there is the warning that, to avoid damage to very delicate fabrics, the brush should be removed and the steam head kept about 1.5 inches from the fabric.
Although I would not recommend it for everyday in preference to a conventional iron, I feel that it serves a useful function – especially for those who would have difficulty with a heavy ironing board or for tweaking up a garment that has just come out of a suitcase. While this latter would make it very useful when flying off on holiday (especially as it is 120/230V dual voltage), some people may be put off by the fact that it weighs nearly 2lb and has a recommended price of £29.99.