Case Logic Luggage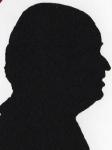 Here I am looking at superior luggage for you and for your notebook (up to 17inches) nothing gaudy or flashy just quality luggage.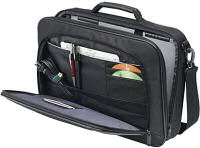 Laptop Attach
This looks somewhat plain it is soft to the touch but everything is in the design. Take the shoulder strap it goes from a point 5cm from the edge of one side of the top zip to a similar point 5cm from the edge of the other side, so perfect balance even if the zip is not closed.
There are two grip handles that can be stowed inside outer pockets or pulled to rise 5cm above the top zip again perfect balance even if the zip is not fastened. Apart from this there is an external pocket that could carry an iPod or PDA or even a mobile phone this looks like a conventional side pocket but is fastened by Velcro and opens to reveal a clear pocket on the internal or to be precise three pockets two from the top to a position 6cm from the bottom and a zip up lower pocket running the 15cm width.
Now the main internal pocket for any size of notebook up to 17inches. The zip runs from side to side with two zips so any point can be the closure point. This is lined with a material that will withstand the odd knock and there is even an internal zip on the side away from the external pocket that goes the whole width so ideal for those papers or even the odd folder.
Not being a fashion guru I would describe it as a grey green colour with black fabric handles and shoulder strap. Very nice but not at all flashy, in a word class. The stated warranty is said to be 25 years. The recommended price is £44.99.
http://www.caselogic.com/17_slimline_laptop_case/product_detail/index.cfm?modelid=87446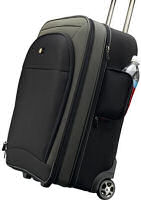 24inch Trolley Case
So having taken care of your precious notebook lets look to your clothes etc. I hate trolley cases, or to be precise my shins hate walking behind trolley cases as their owners seem to have the ability to stop without warning.
However a 24inch trolley can carry a lot of clothes. I have put two suits, three shirts and underwear socks etc as well as a pair of shoes and still had plenty of room for toilet bag and a few other bits.
It has the same grey green colour as the Laptop Attach but with more black all round the sides. The case is 36x23x58cm in its shipped state however a centre zip allows the 23cm width to breathe out a little.
The main zip goes round three sides at the front edge of the case. Having opened the lid you are greeted by a mesh suit holder a smaller mesh holder that can be clipped to run the width of the case and an internal side pocket.
The case has two wheels at the back with a bumper bar at the front to allow ease of standing. The front has an almost full length zipped pocket that is 32x50cm and just like the zips on the main case it has double zips allowing items just too big to stick out at a convenient point. There is also a single zipped side pocket 17x10cm.
A push button allows the 42cm trolley pull handle to be extended/returned this has a nice rubberised grip to make pulling easy. The top also has a padded grip handle for those occasions when the case needs to be lifted. On that point the case weights close to four kilos when empty so think about that if you need to go up stairs or other places if you need to carry it for distances rather than rolling it.
Again this is stylish and should withstand the odd knock however this has no locks so not ideal for travel when it leaves your sight. They offer a ten year warranty. Again a piece of luggage you will want to be seen with. The recommended price is £179.99. For a list of UK stockists contact Case Logic on 01844 219000. Of course some retailers may sell at a discounted price.
http://www.caselogic.com/24_lightweight_expandable_upright_roller/product_detail/index.cfm?modelid=90745