Voombox Ongo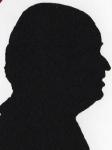 Music while you ride could well be what you do with this product as it is supplied with a handlebar mount. However it is still a perfectly good set of speakers for those of us who prefer music from the comfort of their armchairs.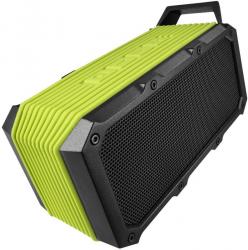 click image to enlarge
Some of the lounge police might object to the bright orange of the unit that predominates, the front and back are covered in black mesh. It is 13x6.5x6cm and without the bicycle mount it weights 423grams.
It is reasonably water resistant as the orange is rubber and the front and back mesh is very fine.
The only external connections are on the left end under its handle and they are covered by a tight fitting bung. The connections are micro USB for charging and an Auxiliary input 3.5mm socket.
The top has four touch rubber buttons, + multi-function – and on/off.
Apart from the rubberised handlebar mount – this fits into a tripod screw in the base – there are 3.5mm to 3.5mm and micro USB to USB leads.
There is a small multi-language manual with the first seven pages in English. Although the pages are small the typeface is readable helped by the fact that the paper is reasonably thick and glossy.
The unit gives stereo sound through the two forward facing speakers there is also a passive bass radiator to give you more depth.
The stated time between battery charges will vary according to volume level but in my tests it always exceeded eight hours.
The two speakers each give 3.5watts output to make the total output 7watts.
When used on Bluetooth the stated range is 10metres. However I expect on a bicycle it will be a lot closer than that. In the home the signal went through three solid walls without problem.
The stated recharge time is 3-4 hours and in my tests this was ample.
When looking for a Bluetooth match there is a blue LED showing behind the mesh. When charging there is a red LED which goes out when charged.
I was pleasantly surprised with the sound quality indoors outside you need higher volumes to overcome traffic noise. My own opinion is that any excess noise outside is too much but then so many irresponsible car drivers seem to delight in everyone having to suffer their music.
I am aware that my musical Genre is not enjoyed by the majority so when I listen outside I tend to use headphones, however I am also aware of the importance of both pedestrians and cyclists need to hear warning from other road users so I assume such a device has its place.
In the home this is a good small stereo sound that works well via Bluetooth as indeed it does via Auxiliary input.
Apart from the Orange one I was sent it is also available in Red, Green Blue and all Black.
The Voombox Ongo is available from the first link below for £35.76 with free delivery. Price seems to vary according to colour the cheapest (price quoted) is for green.
http://www.amazon.co.uk/gp/product/B00LK17916?ie=UTF8&tag=gadge0a-21&linkCode=as2&camp=1634