Motorola Baby Monitor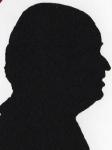 For anyone with a baby or other dependant person something like this will make a hard life easier. Starting with the setup. This will work on your home Wi-Fi network or over the Internet the latter ideal for keeping an eye on the baby sitter.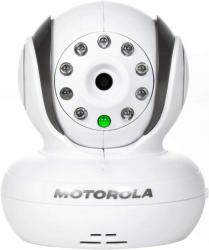 click image to enlarge
Place the camera where you want to use it, within the two metre length of its power cable, it can even be hung on a wall, follow two simple instructions and then download the appropriate free App either from the Android or 'i' store.
Set it up to work with your Wi-Fi and then wait a couple of minutes, the camera is recognised and you are in business. In total around seven minutes including the download.
Images are clear and then you are free to explore what the interface has to offer, you can not only hear baby but see it clearly even in reduced lighting conditions.
The unit is 10cm tall and has a circular 8cm base the camera itself is also circular at 6.5cm, at the rear is a stub aerial, behind that a flexible temperature sensor on a 3cm arm finally a sensitive pin hole microphone on top of the base.
There is just a slider on/off button on the bottom edge of the unit and DC input just beside the Wi-Fi stub aerial.
Around the lens are ten infra red LEDs so it can work in near total darkness.
There is a 44page User Manual, page two and three cover the camera and what everything does. The rest of the Manual is devoted to either the 'i' device or Android App. As this is not a dumb camera it has full remote control in my tests there is around a five second lag while your request is sent to the camera and the movement or adjustment takes place. This will be slightly longer if you are viewing over the Internet rather than over your own Wi-Fi.
I used it on a SmartPhone and a larger Android Device. My only test on 'i' devices was an iPod Touch. You can also access the camera via a PC or – I assume – a MAC via www.monitoreverywhere.com
After the App download you need to create a user name and password so that you can access the camera either via Wi-Fi, PC/MAC or over the Internet.
I will not go into all the icons and what they do but not only can you see remotely and pan and tilt the camera silently you can also zoom in.
However sometimes baby will require to be soothed without you needing to be present, just the sound of your voice or the playing of a lullaby are all that is required and this unit can do this remotely.
Should you wish you can take a picture or video all without being in the room.
These days temperature is something everyone worries about and the remote screen shows babies room temperature all the time as an overlay.
It is possible to set an alarm according to the noise level in babies room.
The Motorola BLINK1 is available from the link below for £66.66 with free delivery.
http://www.amazon.co.uk/gp/product/B008HF4JUW?ie=UTF8&tag=gadge0a-21&linkCode=as2&camp=1634