Groov-e Stereo Headphones for kids GV-591-VP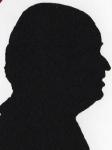 A set of headphones designed for kids of an age when the parents/guardians still decide what they listen with so the headphones are volume limited as the early years of a child's life is the time when their hearing can be most easily damaged.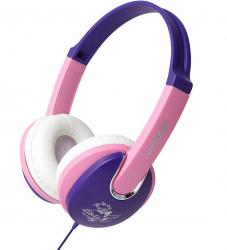 click image to enlarge
They are however still wearable by an adult and I spent many hours listening to their output, which is perfectly adequate to listen to either a mobile phone or even an MP3 player, I even tested them with my audio system and the sound was clear and crisp.
Now onto the claim of 'volume limited' well the packaging states 85DB which to me anyway is more than loud enough.
In order for me to test them myself the headband needed to be stretched slightly beyond vertical which did make them feel slightly tight on ear after more than an hour or so, but a 'kiddiez' head will be a lot smaller than an adults.
There is 3.5cm of extension in each arm and I was able to use them with 1.5cm of extension either on or behind my head. The distance from the base of the earpieces to the top centre of the slightly padded headband is 17cm.
For an adult these were on ear headphones and the earpads are covered in a white leather like material but for a younger child these may well be over ear offerings.
The arms of the set I was sent are pink with the top of the headband and the back of earpads in a dark purple.
The lead is hard wired into the base of the left earpad and ends 1.2metres later in a 90degree 3.5mm gold plated plug, the lead and plug are in the purple colour.
I was very pleasantly surprised at the quality of sound, good separation, the higher register was there and there was adequate base.
As always I test using a range of products from SmartPhone and MP3 Players to my audio system where it has far better quality than MP3 to interpret. I also tried my Digital Radio using Internet streams of BBC and other stations that send higher quality signals over the Internet to that you receive over the airwaves.
I noticed that when I listened using my headphones the volume level set was 18 and to get the same level with these the volume level was 23 or 24.
I still feel that 85DB is quite high as a pneumatic drill is only around 120DB.
When I checked their site I found they do a range of adult headphones and earbuds so the 40mm drivers in these are no longer a surprise, just quality lower down the price and age range.
No real criticism of these, I look forward to testing some adult units from this company, the colour was not what I would have chosen but then I am not a young child. They do even cheaper headphones but without the volume limitation.
The groov-e Stereo Headphones are available from the first link below for £12.99 with free delivery.
http://www.amazon.co.uk/gp/product/B00R1FNKG8?ie=UTF8&tag=gadge0a-21&linkCode=as2&camp=1634