Pioneer SE-MXR Headphones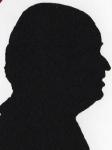 Getting 50mm driver units into headphones means they are never going to be small. These are just on ear offerings for an adult for a younger person or someone with small ears then they enter the realm of an over ear offering.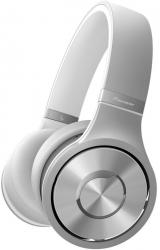 click image to enlarge
The earpads are round and 8cm across; they are heavily padded so have a reasonable external noise deadening effect. There are 4cm worth of extension on each arm and with the earpads extended to 24cm width the distance from the centre of this area to the top of the rubber padded headband is 19cm.
Each earpad turns through 90degrees so they can be rotated to sit -either independently- or together on top of the ears if the headband goes to the back of the neck.
They come with a 1.2metre 3.5 to 3.5mm cable and as this has a plug at each end they should pull out if stretched. Around 6cm from the base of the left earpad is the almost obligatory phone answer button for those using these headphones with a smartphone.
For those using them to play higher quality audio from LP or CD via an audio system there is a 2metre extension lead making the total length from the output to your ears a tad over three metres available so the sofa should be in reach.
Other items in the box an adapter so that you can connect to a 6.3mm output and a carrying pouch to allow you to take them wherever you go.
I think my head is a normal size for an adult and I used these headphones with no extension to the arms. This means that those with larger heads are easily accommodated but I fear children might find them a little large.
I liked the sound these headphones produced, for me anyway not the excessive bass produced by some.
I tested them on a smartphone an MP3 player and two different music systems so not only decent quality MP3 but also WAV and other lossless sounds.
As always I test on my favourite genre Jazz but I also delve into popular classical and do admit a slight feeling for classical piano, I have always preferred the imperfections of a live performance and a decent set of headphones hears things you can miss even using decent speakers, a well recorded live sound of a jazz quartet or small group is my real joy.
My unit were predominately red with just the rubber headband and leather cups being black, the lead was red and black as well to match. I see other colour combinations are available.
The stated frequency response is 6Hz to 40000Hz.
While it is normal to have the lead emerging from the left ear this unit has two bungs and it is possible to use the right one or for those who like to dance the night away dangerously you could have another lead to share your listening pleasure.
The Pioneer SE-MX9 are available for £199 with free delivery from the first link below.
http://www.amazon.co.uk/gp/product/B00JYO04SG?ie=UTF8&tag=gadge0a-21&linkCode=as2&camp=1634
http://www.pioneer.eu/uk/products/42/67/226/SE-MX9/page.html