A Groovy Speaker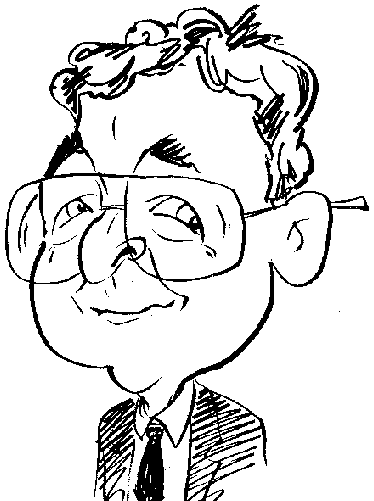 Review controls
Rather than Bluetooth connectivity, this next speaker uses touch as its means of receiving a signal.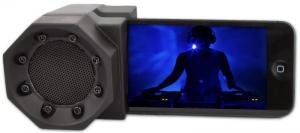 click image to enlarge
With a title like Boombox you might expect the product to be of a reasonable size as it delivers its audio to all and sundry. However by adding the designated "mini" to the title then the concept of size can change dramatically. Take, for instance, the TouchMini Boombox which arrives with the claim of being a miniature speaker offering high sound without the need of cables or pairing (so no Bluetooth then).
This thumbsUp product, with dimensions of 74 x 64 x 57mm (D x H x W), is perhaps too bulky to fit in a pocket without causing an unsightly bulge but it could be easily slipped into a bag when in transit. Weighing just 78g, this miniature speaker unit is certainly not going to over-burden you when being transported on your travels.
Totally matte black in colour, this plastic device features a front-mounted circular speaker grill within an octagonal face, which also houses eight decorative studs. Initially it might appear as if this speaker should be stood on its widest base. But this would completely negate the main means by which this speaker can receive the audio signal that it broadcasts to the world. You need to position this small speaker so that the area containing a deep groove is on the top of the unit. This groove has an important role to play about which I will explain a little later.
The TouchMini Boombox is powered by a built-in rechargeable battery. This battery, which has a 500mAh capacity, can take between 4 and 5 hours for recharging and, in return, offer up to 10 hours of playback. Recharging the battery is carried out via a micro USB port located at the rear of the speaker unit. A standard-to-micro USB lead, measuring 45cm, is supplied with the speaker. During the charging process, a light will glow red and then turn itself off to indicate when the task is completed.
Along with the micro USB port and light, the rear panel also contains an on/off slider power switch and a 3.5mm jack socket. You can use this socket for linking to a MP3 player to the speaker for increased volume output. You will need to supply the appropriate cable as one is not included in the box.
While your audio can be supplied via this jack socket route, it is not the prime method used by the TouchMini Boombox. Explaining the "Touch" element of this product's title is its ability to pick up an audio stream via the facility of touch. By positioning a smartphone in the groove, mentioned earlier, this speaker will enhance the level of audio volume from the attached mobile device. Some experimentation will probably be necessary in order to line up the smartphone's built-in speaker facility with the Boombox's built-in audio sensor. Any fine tuning of the volume level will need to be carried out from the smartphone as the Boombox does not possess this ability as part of its feature set.
It is just about possible to substitute a smartphone with a tablet as the audio source. However it is not something I would recommend. The combination of a tablet and speaker unit could easily over-balance due to the bulkier size and weight of the tablet especially as some tablets tend to position the speaker output at the corner of the unit. Stick to a smartphone and there should be no problem when using this speaker device.
The volume and audio quality is about what you would expect from a speaker of this size. It would be fine for casual listening as it allows more than one person to enjoy the music. The TouchMini Boombox can be purchased from Genie Gadgets. It is priced at £21.95.