Hyperx Cloud Gaming Headset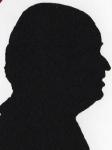 For a gamer hearing a sound a fraction of a second earlier can be a matter of life and death. So the quality of the headset is almost as important as the speed of the processor and the graphics card that show what they are doing on the screen.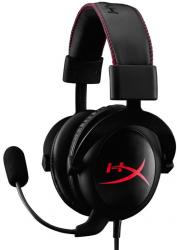 click image to enlarge
Hyperx is part of Kingston a company best known for PC memory and SSD drives so having fast reliable memory is next door to having a fast headset.
The headset is an over ear offering after all when gaming you need 100% concentration so no external noise needs to penetrate your concentration.
They need to be comfortable as gamers often play for many hours without a break. They need to be light and sturdy so they are made out of Aluminium. I mentioned comfort and this fulfilled by a soft leather band around the headband.
A separate control box in lead means that a quick uncoupling is possible. The earcups are of course leather again soft but for me this often encourages sweating so velour is added.
53mm drivers give very precise sound and the microphone is detachable for those who do not need this feature.
The microphone also unplugs for those occasions when the gamer relaxes by listening to music to turn it into a near standard high end set of headphones.
The stated frequency response is 15-25,000Hz.
The total weight with microphone and cable is 350grams.
There are two cables supplied a 1metre and a 2metre extension.
I cannot claim to be a big gamer but this is now the official headset of Professional Gamers Organization and four gaming groups are represented on the box, SK Gaming, Intel Extreme Monsters, Alliance and teamliquid all of which should be known to those who are gamers.
My use of the headset was in the relaxation mode although I did wear it to make a few phone calls with the link provided. I see they are available in either black or white.
I find it ironic that gaming produces a rather good headset for listening to music which if you think about it is as far away from gaming where response is everything as you can get.
Gamers by default are young and no one is going to disagree that I am certainly not young but I do enjoy my music although probably very different to that enjoyed by those of a younger age group.
I can listen to classical especially piano, this love spills over into jazz – my real passion – and certainly small groups such as trio to quintet size where you can easily interpret each separate instrument.
Here I was more than happy with what I heard and on some recording perhaps shocked by things I did not know were there which brings me back to what someone would buy this headset for hearing slight sounds so you can react quickest. Yes quickest not more quickly as the quickest will be the winner and these could help you to be just that the quickest.
The Hyperx Cloud pro gaming headset is available from the first link below for £60.89 with free delivery.
http://www.amazon.co.uk/gp/product/B00JJNQG98?ie=UTF8&tag=gadge0a-21&linkCode=as2&camp=1634