Amplicomms Wireless Headphones HS 1200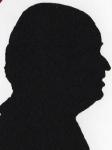 These are marketed as the loudest wireless headphones. This is a bold statement but while I cannot confirm or deny it, they are loud and not only that they have a very good range from the base station, and, for good measure they are comfortable.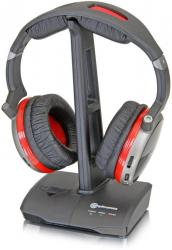 click image to enlarge
I am not wild about over ear headphones as they normally make my ears sweat but these were not too bad.
As regular readers will know I am bald, not the modern bald from choice, but simply through old age.
I can wear these fully contracted as they fit well over the ears and the large amount of padding on the centre of the headband holds nicely on my head.
For those who have a lot of hair or just have larger heads each arm has 3cm of expansion.
In the fully contracted state they are 20cm from the top of the headband to the base of the earpieces. Without any expansion they are the same dimension from side to side.
Each earpiece has its own independent volume control and the left one also has a green pin hole signal LED. The right earpiece has a red pin hole LED for paring an on/off control and a battery cover release behind this are two 'AAA' rechargeable batteries.
Each earpiece has around 3cm of padding which also helps keep the ears cooler when wearing. Each earpiece has a few centimetres of side to side movement so those who have favourite ways of wearing are still accommodated.
The wireless sender unit is 16x13x23.5cm with cables inserted in the rear.
Looking at the rear of this unit there are a pair or RCA sockets, a mono/stereo slider switch, DC input/charger and an on/off slider.
Looking at the front there is a line of three LEDs Charge, Signal and Power. To the left of these a lid slider that you insert two 'AAA' batteries behind to be charged while the unit has power.
You are supplied with four 'AAA' batteries, two are being charged in the unit while two are in the headphones receiving the signal. RCA to 3.5mm lead 1.9metres long and a 20cm long 3.5mm lead to RCA sockets the latter useful for outputs from other devices such as TV's. Finally a 1.8metre lead 3.5mm plug to mains power brick to power the unit.
There is a 100 page User Guide is six languages.
I mentioned earlier the range was good I was able to plug the unit into various items either with the RCA to 3.5mm or the RCA leads, my TV or my Audio system gave me the ability to move room to room and even walk down my front path to the road outside until the signal started to break up.
Sound quality was good and listening to audio was enjoyable. If you have poor hearing then you can listen at your volume while others are not deafened by any increase you have. If one ear is affected the volume can be set to different levels to each ear.
The Amplicomms HS1200 headphones are available from the link below for £104.74 including delivery.
http://www.amazon.co.uk/gp/product/B00I3MARSC?ie=UTF8&tag=gadge0a-21&linkCode=as2&camp=1634