Kanex AirBlue Bluetooth Audio Dongle

Published 15 Apr 2014 Author
bidmead
Today's implementations of Bluetooth are a great way to set up wire-free audio connections. But although Bluetooth has become a standard among handheld devices few home hi-fi systems are equipped to receive it. This is where the Kanex AirBlue comes in.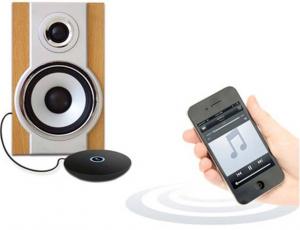 click image to enlarge
My old Harman-Kardon AVR630 hi-fi system dates from the CD era. But these days all my music is either on my phone, or fed to my phone from servers in the Cloud or up in my office. I haven't listened to a CD through the faithful HK since about 2008. Mainly because there's no elegant way of connecting it to my local area network.
Until now, that is. As I write this, John Coltrane's classic "A Love Supreme" is squealing deliciously from my 5.1 speaker system, driven by the AVR630's powerful 200 watt amplifier. The music source is a myDitto multimedia server on my LAN, from where it's being fed to an Android Moto X phone, which in turn is Bluetoothing it into the hi-fi system. The old AVR630, dating from the early 2000s, has become Bluetooth-capable.
The secret is a little gizmo the size of a large coin with a 3.5mm stereo audio socket, and a microUSB connector for charging. In the centre is an illuminated button for Bluetooth pairing during setup that also doubles as a pause/play control for the music.
This is the £29 Kanex AirBlue, connected though the dual RCA-to-3.5mm cable bundled with the device to the Tape In sockets at the back of my amp. A second cable is provided in case you want to wire the AirBlue to a 3.5mm socket.
The main purpose of the device is to link Bluetooth sources to your home stereo system or speakers over a distance of up to 33 feet. You can, of course, also plug a pair of headphones directly into the AirBlue's 3.5mm socket, although with no amplification the volume is on the low side.
The kit also includes a USB A to microUSB cable for charging the device, which takes 2-3 hours. You'll have to provide your own charger, but any PC or Mac USB socket, and probably your current phone charger, will do the job.
The AirBlue's internal rechargeable 420mAh battery runs for about 10 hours before requiring a top-up, but will continue to work while recharging, making it suitable for permanent installation. The device can retain pairing with up to 8 different devices. It's based on Bluetooth 3.0 rather than the latest 4.0, and doesn't use state-of-the-art APT-x encoding, but to my (old) ears the audio quality was unimpeachable.
Updating my venerable HK AVR630 is only one of many possible uses for a device like this. This is an inexpensive, stylish little gizmo that should find a place in anybody's musical life.