Wireless Headphones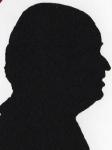 The word 'Wireless' is often misunderstood to mean Bluetooth and sometimes people think Bluetooth means 'Wireless' so just to help things here I have a set of Bluetooth called Wireless Conspiracy and a set of Wireless from Geemarc.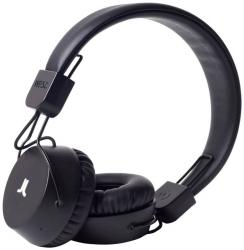 click image to enlarge
Piston Bluetooth 999 Black
When fully collapsed they are only 16cm from the top of the headband to the base of the earpiece. The earpieces are 5.5cm across and the extension is 3.5cm per side. I needed 1.5cm of extension so someone with a large head may struggle.
They are very light at 127grams and as mentioned the earpieces are small so definitely an on ear offering. The padding on the inside of the headband is soft so even if you are bald they are comfortable.
They come with a 60cm micro USB to USB lead for charging and a 1metre 3.5mm to 3.5mm lead.
Linking was simple once you realised that the JL logo on the left ear is the control for pairing. The same logo on the right ear is play/pause.
However these have another selling point in that the earpieces fold inside the headband for ease of transportation meaning that the total size is 12x15x5.5cm.
Sound quality is reasonable and you should still be able to hear your music on most trains although my tests on the noisiest tube trains were less acceptable as the on ear style means noise still gets round the sides of the earpieces.
The Bluetooth range was only reasonable, and if I left my iPod in the kitchen signal was lost once I went down my hall towards the front door a distance of only around seven metres.
They have 40mm power drivers, a built in microphone, a frequency range of 20HZ -20KHZ. The stated talk time is 30 hours, standby time of 200 hours and music play time of 10 hours. The battery recharges from exhausted in two hours.
The provided 3.5mm to 3.5mm lead can be used to listen wired via headphone socket or even for shared listening.
The Piston Bluetooth 999 Black is available for £76.19 including delivery also available in Navy or Red.
http://www.amazon.co.uk/gp/product/B00H39N0OO?ie=UTF8&tag=gadge0a-21&linkCode=as2&camp=1634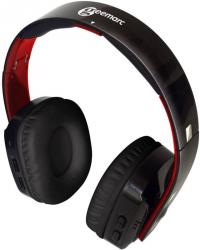 click image to enlarge
geemarc CL7400
These are lightweight at 252grams and 18cm from base to top and 17cm from side to side. Unlike the Bluetooth offering above these are Wireless and use the 2.4GHz band.
You connect the base station to whatever you want to listen to and providing your headphones are charged you can wander around without wires the range was good enough for me to place the base station in my kitchen and walk down my hall and path and out into the road – true wireless.
The base station can connect to a range of items such as hi-fi, TV, smartphone or other such devices that have either a 3.5mm socket or RCA jacks.
You can also use them via a supplied 3.5mm to 3.5mm lead as a rather nice over ear set of 'standard' wired headphones when out and about.
A full review of these was published on the 10th February which contains other details including charging methods etc.
My only worry was the stability of the base station that fell over too easily when the headphones were being charged.
The geemarc CL7400 are available from the link below for £105.26
http://www.amazon.co.uk/gp/product/B00DJ3T4E8?ie=UTF8&tag=gadge0a-21&linkCode=as2&camp=1634