Geemarc CL7400 Wi-Fi Sound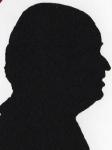 Often such devices fail after a few feet, here is one I could leave my lounge, move to front door and then out into the street. Now that is what I call Wi-Fi and unlike some that only work for things with a 3.5mm jack these will work with RCA jacks as well.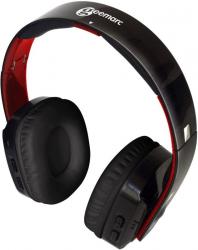 click image to enlarge
They are lightweight at only 252grams, the size is not huge considering they are over ear offerings at 18cm from base to top and 17cm at the widest point. Each arm has 3.5cm of expansion. The expansion joint is also where the earpieces can collapse to enable them becoming smaller for transportation. Total size is 15x10cm.
It is possible to use them as standard headphones with a 3.5mm lead plugging into the base of the left earpiece.
Each ear has independent volume adjustment on the rear of each earpiece with large easily identified buttons for up or down as they have + and – on them as you will probably be doing this whilst wearing them.
The right earpiece has three other buttons on the front they have icons to identify their purpose and these can be illuminated in certain situations. To me this is less useful unless you carry a mirror! However there are various audio 'dongs' to help keep you informed.
The base station is 19.5cm tall and 12cm deep. This also doubles as a charging station for the battery in the headphones around five hours on the docking station should give a full charge, there are two ways to charge the battery either by the included 1.5metre DC lead that ends in a 13amp power brick or by a micro USB lead direct into the base of the right earphone (lead not supplied).
The base station connects to a range of products via 3.5mm lead or DCA jacks. The input into the rear of the base station is via DCA jacks but two leads are provided and one is DCA to 3.5mm socket.
The connections on the rear of the base station are a three position slider, off/on/mono, DC input and Audio in L and R via the supplied leads.
The base station needs to be powered to send the signal from whatever device you are connected to, examples are TV, Audio system, Smartphone or MP3 player.
In use the headphones give a rather good sound and the ability to adjust sound volume to each earpiece is useful. Of course to use them away from the base station you need a standard 3.5mm lead and then they become a standard set of headphones which of course do not need power.
Using them in the home and surrounding area is great as you have no lead restrictions they use the 2.4GHz digital waveband.
If I have a criticism it's that the base station is a little unstable and likely to fall over, if it was heavier and slightly taller the headphones can be sat in the charge position easier.
On the very much plus side the amplification means that those annoying movies who persist in whispered voices can be overcome with ease where most TV volumes will not help beyond a certain point, also great for MP3 players where the volume levels are artificially lowered to such a level that any external noise makes the music hardly listenable.
The Geemarc CL7400 Headphones are available from the link below for £109.99.
http://www.amazon.co.uk/gp/product/B00DJ3T4E8?ie=UTF8&tag=gadge0a-21&linkCode=as2&camp=1634