iLuv Mobi Out and PNY PowerPack 2600mAh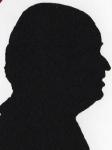 The first is a rather nice shower proof Bluetooth speaker set at a not outrageous price. The second is a method of saving your USB device be it phone or tablet from having a flat battery when you are away from power.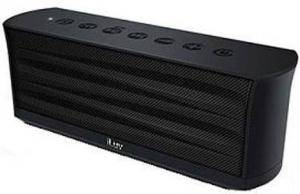 click image to enlarge
iLuv Mobi Out
Any Bluetooth speaker unit that can play for 18hours and 11minutes between charges is certainly worth a second look.
It is small and easy to walk around, it does have the ability to play via a 3.5mm lead, but the main focus of this unit is as a Bluetooth device.
It is 17.5x6.5x5cm. My unit was black and as there are no open paws and everything being rubberised their claim of it being splash resistant or even showerproof should be true. One proviso this is when not connected to the mains or when a 3.5mm jack is connected as a rubberised flap near the base of the back would then be open.
The rubberised coating should also make is less susceptible to damage from the odd drop.
Behind the rubberised flap at the back are a micro USB (to charge the internal battery), on-off slider, USB to charge other items and a 3.5mm jack to play external audio via lead.
All the other controls are black on black rubber on top of the unit, Bluetooth connection, back a track, play/pause, forward a track, volume down, volume up and on/off. The play/pause also comes into effect when a call is made to your phone.
Sound quality for such a small unit was rather good as indeed was Bluetooth reception as I was able to use it through two solid walls where signals often tend to break up.
Indoors it is possible to use it while on charge as indeed you can use your 'i' device when in a similar situation.
It has twin 40mm drivers as well as a passive bass radiator, using it in both Bluetooth and Auxiliary input modes gave a clear crisp sound with plenty of volume.
As stated I was very pleasantly surprised with the 18 hours and 11minutes I got in three sessions between charging and the unit shutting down, not surpriningly I had to recharge my iPod Touch during that exercise.
The top left has a blue LED when in Bluetooth mode (red and blue when looking for a device to pair with) and on the right edge a red LED when the unit begins to get to the point of needing a recharge.
I liked this unit for clarity or sound, lack of size and the ability to withstand the odd splash or three in use.
The iLuv MobiOut is available from the link below for £59.99 with free delivery.
http://www.amazon.co.uk/gp/product/B00CHLDIK4?ie=UTF8&tag=gadge0a-21&linkCode=as2&camp=1634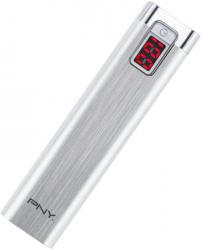 click image to enlarge
PNY PowerPack
This device will charge anything that has a standard USB port. Just plug it into the end of the unit and take the power you want or need to keep your device running.
The box says engineered for Smartphones and Tablets.
It is 2x2x9.3cm. At the top of the front is an LED gauge that shows the amount of power remaining as a percentage and just above this the on/off button. On top the only controls a micro USB input (for charging) and standard USB as an output.
A 50cm long micro USB to USB lead is provided and this is there to recharge the PNY PowerPack when required.
The output from the PNY PowerPack to your device is 1 Amp.
There is an Instruction sheet with diagrams to show how to use it.
This is tiny in comparison to some other external power devices and will easily fit into a pocket, bag or purse, it is metallic silver in colour and when away from a power source you can charge almost any device providing it can take power from USB.
The PNY PowerPack is available from the link below for £15.60.
http://www.trusthardware.co.uk/pny-powerpack-2600.html?gclid=CO-b4MqKwLcCFUTHtAodYlYA-A