Observe or Find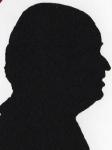 Review controls
First a game that most will know from paper versions Wordsearch, here a version on themes. Second something intended for those of an age group that I represent the over 55s and this has a serious theme of what you can immediately remember.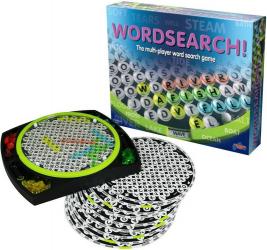 click image to enlarge
Wordsearch
This is a rather nice board game for two to four players, stated to be age 8 upwards. It is based on those found in puzzle books, here however no pen or pencil is required.
Wordsearch as in the puzzle book version is normally a single player game. Here it is for two, three or four and often the younger players find the words quicker.
There are ten double sided cards these are fitted on a rather nice sturdy turntable, next you fit a clear plastic cover over the cards, this covers the letters and each letter has an indent in it. When someone finds the required word they call out and show where it is on the board and then cover it with semi-transparent coloured markers. The turntable is then rotated to the next word to be found, this is displayed on the edge of the turntable.
There are twenty nine words to be found on each card, they can be vertical, horizontal or diagonal, each word is either four or five letters and all follow a theme laid out on the card.
When a word crosses another word already found the player who finds that word replaces the coloured marker where the words cross with one of his own colour.
A simple set of rules is provided, but I see no reason why you could not change these when you want to play for a set amount of time.
A nice twist to enable a solitary game to be played for up to four people. The board, the markers and the turntable are well made, it rotates without judder and as the markers are concave they fit snugly in the recessed place over the letter.
Wordsearch is available from the link below for £16.49 with free delivery.
http://www.amazon.co.uk/gp/product/B003NUO0FK?ie=UTF8&tag=gadge0a-21&linkCode=as2&camp=1634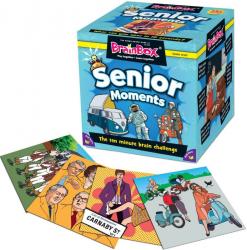 click image to enlarge
Senior Moments
This is a card game for one – or more – players. The rules for one player are different to those for two or more however the object in both versions is to see how many cards you have after ten minutes.
Apart from the fifty four thick cards you also get a dice and a 10second timer shaped like the old fashioned egg timer.
Each card has a picture on a subject, Mods and Rockers, Virginia Wade, 1970s Dance Styles are three taken at random. You look at the picture for ten seconds and then turn it over and try to answer the six questions on the back of the card. If you get them all right keep the card and move on to another card, do this until the ten minutes is up.
The two – or more – player version is a little different and involves the dice. This is just one of a range of nicely boxed games produced by BrainBox. You can try samples from others in series and for those you do not need to be ancient as they have numerous other subjects.
I tried both the one player and a two player version, on first try I did not get that many cards as although all the answers are there anyone who has tried the picture puzzles 'spot the difference' will know some things do not stick that well and remember the timer only gives you ten seconds.
Their website address is www.brainbox.co (that is not a misprint, the address is correct as printed) and they have lots of other games for other ages not just for those with 'Senior Moments'
BrainBox Senior Moments can be purchased from the link below for £7.99 with free delivery.
http://www.amazon.co.uk/gp/product/B00AO07X24?ie=UTF8&tag=gadge0a-21&linkCode=as2&camp=1634