i-Hog and Eiffel Tower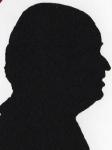 Review controls
Assuming their Christmas money is not already spent here are two more candidates. First the i-Hog a flying pig, who said there were no such things. Second for those a little older a vertical jigsaw from Ravensburger of the Eiffel Tower.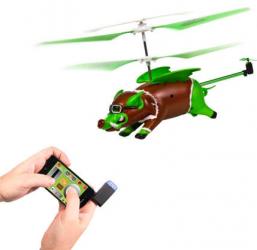 click image to enlarge
i-Hog from Terox Toys
While 'Flying Pigs' on a Saturday night may not be rare for some members of the community they are hopefully not normal for the 10+ age group that this toy is aimed at. In fact during my tests even younger than that enjoyed flying it.
From tail fin to the front of the double rotor is 25cm, the pig – complete with flying goggles – is 15cm from head to tail and 4.5cm wide. The overall height to the top of the rotors is 13cm and its weight is only 71 grams.
The pig is brown with green head and back legs which is also the colour of the helicopters rotors. A 60cm yellow USB lead charges the pig. By comparison the 15x11x7cm controller is quiet with a white top and grey bottom.
The controls are easy enough to work out which was useful as my review unit arrived without instructions. It did come with two spare upper rotors and one spare tail rotor as if you crash – quite likely initially – these can be damaged.
It can work on one of two radio bands so that if you have more than one their frequencies do not clash. It comes in sensible box and should you wish it can be replaced in it between missions.
As opposed to a lot of other helicopters that are lighter and smaller this is a lot easier to fly and even a relic like me did so without too many problems. The normal thoughts are remove Aunt Jane's vase just in case of accidents.
The range of testers was from 8-12 - if you exclude me – and they all enjoyed using it. I always find that children younger than the stated age love almost everything but you the parent must decide and the recommendations are always on the upper side. While it is stated for indoor use I tried it outside on a no wind day without problem. It can also be controlled by an App should this prove more enjoyable than the remote control
The Terox Toys i-Hog TT-6060 is available from the link below for £39.99
http://teroxtoys.co.uk/store/index.php?act=viewProd&productId=194

click image to enlarge
Ravensburger Eiffel Tower (La Tour Eiffel)
Last year I told you about another Ravensburger 3D Puzzle of Big Ben 7-10-12. Here another monument this time in Paris La Tour Eiffel.
The age range stated is 12-99 and I do qualify. A couple of children did try this and while they were far more dexterous than me, they soon lost interest. Perhaps if they were going or had just been to Paris then they would have enjoyed it more.
Unlike most puzzles that are made of card this series is made of plastic and click together on more than a single edge. The only non jigsaw piece is the pole on the top of the tower and the four base and two levels round the tower. You also get a landscape of 18x18cm to fit to fit the four bases into. They click together and are not glued.
Normally a standard two dimensional jig saw with pieces of this size – average 2.5x2cm – consisting of only 216 pieces would be easy. This requires work and patience so in this case the 12-99 age range could be correct. The pieces are all numbered so it is more of an assembly rather than matching the pattern on a standard jig saw.
The Ravensburger La Tour Eiffel 12 556 2 is available from the link below for £14.99 with free delivery.
http://www.amazon.co.uk/gp/product/B004O0TOK4?ie=UTF8&tag=gadge0a-21&linkCode=as2&camp=1634