Earphones from Genius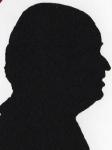 While earbuds are popular, my travels around London still see a lot of people preferring Earphones and in fact it seems to me especially in noisy environments that such items are in fact more popular than they used to be.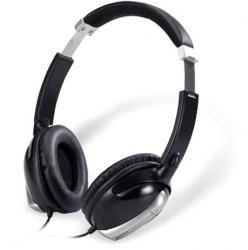 click image to enlarge
The Genius GHP-04NC are a pair of smaller Earphones. 20x14x6cm in a non stretched state. The individual ear pieces are 7.5x6.5cm and do not smother an adult ear like some larger units can. I was happy to walk round with them on, an added bonus was that during the review period we had some cold weather and they kept my ears warm.
Joy of joys they come in a box that does not need industrial scissors to gain entry so they and the provided case can be returned to it when not in use. The case is rather like a small first aid kit in size at 20x15x5cm and it is zip up.
Inside the lid is a zip up compartment containing 2x'AAA' batteries and two connectors one to change the 3.5mm lead fitted to the larger size used on better audio equipment (6.3mm) and the two pronged fitting used on those items with separate channels (in flight). Both the ear pieces are made of leather as is the padded band to go over the head and while the case looks and smells like leather it could possibly be plastic but if so its still a good quality and nice to the touch.
Now to the manual, it's small, runs to thirty pages and page one (actual page seven) is the one page in English so the manual covers twenty four languages. Having found my magnifying glass I was able to verify the items covered.
The 3.5mm lead is 1.6metres long and is gold plated as indeed is the 3.5mm to 6.3mm adapter to give good sound reproduction.
Each arm of the headband can be pulled out by 3cm so this should cater for most head sizes. Each arm swivels through 90 degrees on head moving towards the back of your head assuming you wear them on the ears marked L and R. Each arm holds a single 'AAA' battery and the job of these is solely to reduce the external noise.
Without the batteries (or with the switch on the right ear turned to off) you have a standard set of decent Earphones.
With the switch (with batteries inserted) it does a reasonable job or reducing external noise, stated to be more than 15dB at 300Hz. I am sure that means something to a scientist. To me it means the Northern Line on the tube enables you to listen to your music whereas without it you just hear noise to such a level that you can only carry on a conversation – when at its worst – by shouting into the person beside you ear. On a busy street the traffic noise is reduced, however you should still – importantly – hear a car sounding its horn as a warning.
How does noise reduction work, well, if you reproduce an identical sound wave 180 degrees out of phase then the original sound is deadened and equalised or cancelled called I understand the 'superposition principle'.
Earphones however will never be able to reduce noise as well as earbuds using the same principle when the bud is moulded to the ear as this blocks everything, these are however very expensive and or course when out and about can be dangerous as your hear nothing even your own footsteps are only heard from your inside.
I have worn them for hours in and around the house and my iPod sounds excellent, I have used them when sitting while listening to my hi-fi. It of course also means no one else needs to listen to my musical taste without my ears hurting.
The Genius GHP-04NC Earphones are available from the link below for £27.59 plus delivery (£3.99 when I entered my post-code).
http://www.misco.co.uk/applications/SearchTools/item-details.asp?EdpNo=390498