Hit the dirt with SEGA Rally 2007

Published Oct 15, 2007 Author
petew
Review controls
I'm a big fan of driving games so as you can imagine I was delighted to have the opportunity to take SEGA's latest release of their Rally game for a spin. Read on if you'd like to know how I faired!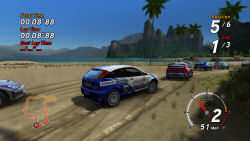 I think one of the first games I ever played on a personal computer back in the very early 80's was a driving simulation game. The road was a couple of white vectors and it was, naturally, night-time. All you had to do was stay on the road.
Well times have changed, and with each new generation the thrill gets greater and the adrenaline pumps that little bit harder.
This incarnation of SEGA Rally is the first fruit of SEGA's newly formed 'Racing Studio'. In the run up to the launch there was a lot of publicity, including a sand-scuplture of a rally car in Battersea Park, and a 'get down and dirty' campaign to encourage people to graffiti dirty cars with SEGA Rally messages (did you see any?).
With this build up and the promotional video blogged a couple of weeks back, I was keen to get started. The game is available for PS3, PSP, XBox 360 and PC. My choice was my trusty Sony PSP - not because it's the best format for racing games (no steering wheel, no pedals) but because just about the only time I get to play is when travelling.
Ultra-realism
Much of the game is similar to other racing games. What's new in this release is the level or realism and the way in which the cars react to the six distinctly different terrains : tropical; alpine; canyon; arctic; safari and lakeside. Each terrain has it's own characteristics. It's your job to choose the best car and, more importantly, the correct tires.
Realism is maintained not only in the way your car reacts to the surface, but also how you and the other drivers affect the terrain. One moment you can be shooting round a bend, and you'll see nothing but the dirt being thrown up by the driver in front. The next minute you'll hit an oil drum that you'll drag a few hundred yards - and on the next lap that drum will be exactly where you left it.

More embaressingly are the tire marks you leave on each lap. As you slam into the side of a mountain, on your next circuit you see your tire tracks illustrating exactly how badly your last lap went (not that you'll have a lot of time to take that in though!)
Each circuit tends to have a mix of terrains as well - which makes driving that much more of a challenge. One moment you're safely on tarmac, then around the next corner you hit snow and you're all over the place!
Indestructible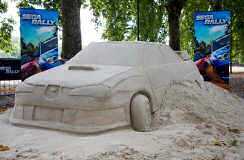 As with all games of this genre there is one area in which realism is not maintained - in the perfect engineering world that is SEGA Rally, the technicians have built you an indestructible car, and further enabled it to take a head-on impact with said mountain and still enable you to continue the race, and even to win. For this lapse in realism I am truly grateful!
On with the game! There are four main elements : Quick race; Time Attack; Championship; and Multi player. As the only person here with a PSP with the game I'm not able to report on the Multi player option - I'll let you find out for yourselves should you take the plunge and buy this game. If you do and try multi player, please do leave your own comments at the end of this review.
The Quick Race is a great way of getting used to the game - and of how the controls and how the different choice of car and tire react. You have a single three lap stage in which to beat five other cars (you get to start from last position!).
"Time Attack" is great fun. Again you get to choose a circuit on your choise of terrain. This time a lap is split into a number of check-points. You're only racing the clock in this case - no other cars to beat. You're given a limited time to get to the next checkpoint - if you don't make it then it's all over and you're back to the beginning.
Rather interestingly (and disconcertingly I found) when you restart the time attack - you'll see a ghost version of the best time so far - so in a very real way you can try and beat yourself!
Championship
The Championship is the main event. This is split into a number of rounds, each comprising three stages, each stage consisting of three laps of a circuit.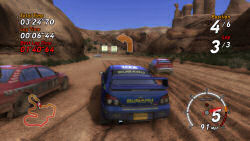 Each stage invariably contains a number of different terrains - maybe a canyon and an alpine resort for example. You only get to choose one car and one set of tires for each stage. Do you go for the slower but better snow tires - get a good time in the mountains and then just hope they work out on tarmac? Or some other strategy? Each circuit of course changes - on an alpine track you'll find one second you're on tarmac, then you round a bend and your car is sliding all over the place on snow.
You work your way through the championship race by race, stage by stage. One really nice feature is that at the end of a race you can start just that race again. So if you come last - it's not the end of your championship hopes! At the end of each race you have the option on watching your race from start to finish from a number of vantage points. This gives you a chance to take in the great graphics in a slightly more relaxing environment than when trying to compete!
As you get more experience, and more championship points additional cars are made available to you. In total I believe there are 34 different cars ranging from Suburu (my favourite) to Mitsubishi to Peugot, Ford and Skoda, to name just a few.
Great game on the Sony PSP - I can only imagine how much better it would be on a PS3/XBox with stearing wheel and pedals. Sega have a dedicated micro-site for this product on the following link :
http://rally.sega-europe.com/en/index.html

Now... If you'll excuse me I have the next stage in my rally to complete!