Parrot Fashion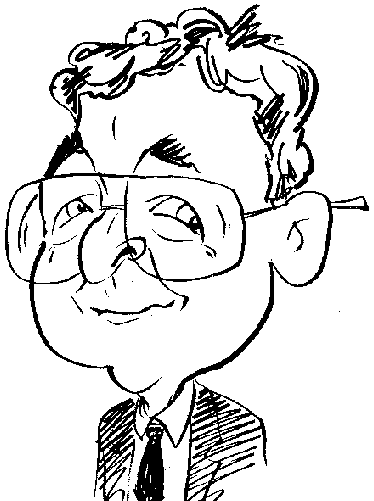 Whether looking to enhance the in-car or home multimedia experience, Parrot might have products of interest.

Set up in 1994, Parrot was originally involved with the development of voice solutions designed to help the visually impaired. Following this introduction, the company then branched out into the area of wireless mobile telephone accessories as it established itself as a pivotal global player using the expertise it had accumulated in voice recognition and signal processing technologies. Parrot was one of the first companies to produce Bluetooth-based wireless hands-free car kits. In 2006 alone, it sold around three million units.
Recently Parrot has increased its product portfolio by expanding into the areas of sound and image based kits. Whatever the type of product, one theme runs through all of its products and that is the total reliance on Bluetooth as the means of communication with other devices.
Rather than take up time and space with some of the company's more established products, I will concentrate on the new additions that will be available to tempt us over the coming months. Let's first take a look at the new items developed for the in-car market.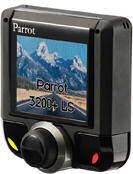 Car hands-free kit
The Parrot PMK5800 provides hands-free, in-car functionality that includes voice activated 150 contact detail storage; full duplex; echo cancelling; and noise reduction. It is compatible with all Bluetooth aware mobile phones. You also get FM transmission features whereby this unit will link to any player that supports Bluetooth and play back tracks. This device connects to the standard car cigarette lighter sockets for all its power needs.
Unlike the previous item, the next items need to be fitted into the car structure. The CK3000 REVOLUTION is attached to the dashboard to provide microphone and speaker capabilities for hands-free telephonic communication. It features built-in voice recognition; 150 contact list; full duplex; noise reduction; and echo cancellation. The CK3100 LCD adds screen capabilities to this list by displaying what is currently showing on your mobile phone screen.
Offering a larger screen size (160 x 128 pixels) is the 3200LS-COLOR PLUS model. This unit can display the caller's photo during a call along with other relevant information such as incoming calls and voice messages. Other features include automatic phonebook synchronisation and a double microphone built into the screen.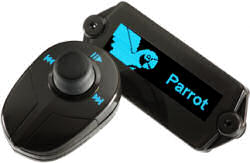 MK6100 plus car phone kit
Offering a six-button interface, the hands-free MK6100 features an OLED screen for improved visibility. This kit combines the functionality of displaying mobile phone information with the ability to play MP3 tracks stored on your Bluetooth phone. Again voice recognition; 150 contact names; full duplex; and echo cancelling come as standard while you also get a built-in 30W digital amplifier.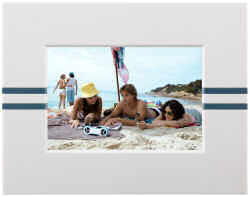 Stepping out of the car and into the home environment, Parrot has a number of multimedia products that take advantage of Bluetooth technology. Adding to its existing range of digital photo frames, the new product on the block is the DF7220. This unit features a 7-inch diagonal TFT display (410 x 234 pixels). As always Bluetooth is to the fore but you can also make use of a mini USB port and SD/MMC card slot. The device's internal memory can store over 300 photos with automatic rotation between portrait and landscape orientation plus a light sensor for automatic/manual backlight brightness adjustment. The Parrot DF7220 has been priced at £99.99.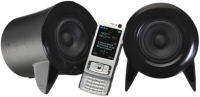 If audio is more your scene then Parrot has not forgotten you. Its DS1120 product consists of a pair of black wireless stereo speakers which can be controlled and accept source material from your Bluetooth aware mobile phone or MP3 player. For those who currently do not have Bluetooth aware source device, do not despair. Parrot is including a Bluetooth 2.0 USB dongle with this speaker set. Another alternative would be to use an RCA auxiliary line to connect to the audio source. Capable of delivering a total power output of 30W RMS, this speaker set has been priced at £139.99.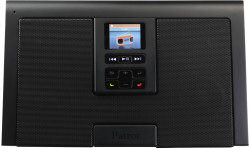 Put together hands-free calling, wireless music and a clock-radio within a stylish box and you have the Parrot DS3120 home entertainment hub. This kit features Bluetooth (of course); a 1.8-inch TFT colour screen; line-in for iPod connection; SD card slot; USB connectivity; mains or battery power; and automatic phonebook synchronisation. The DS3120 comes with a price ticket of £119.99.
There is just enough time to get into party mode with the appropriately named Parrot PARTY portable wireless sound box. Measuring 228 x 79 x 85mm and weighing 620g, this sound box uses either Bluetooth or a physical lead with 3.5mm jack to connect to a music source. Output is 6W with stereo widening and virtual super-bass effects. Power is provided by a rechargeable Ni-MH battery.