Shady Beats - A New Take on MP3 Speakers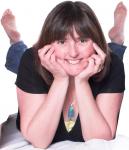 Review controls
Shady Beats is a rather novel combination of MP3 speaker, cash carrier and sunglass case.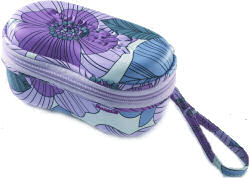 There are some things I absolutely love about this portable MP3 speaker and some I'm not quite sure about.
The number 1 love for me is the sound of the speaker. When this camoflauge patterned speaker arrived, I have to admit putting it to one corner for a week and resisted reviewing it. I wasn't sure how something so gimmicky looking would compare. However, when I plugged my MP3 player in I was more than plesantly surprised by the sound quality. There's a very good reason for this. Integrated into the case lid is a high end speaker provided by NXT using technology designed by the MOD for use in helicopters. NXT, who have provided the speaker, is an award winning developer of flat panel loudspeaker technology.
Also very impressive was that the case came with adaptors for most popular mobile phones which could easiliy have been overlooked. It is also a hard case which will protect your MP3 player well and it's waterproof (hence a good product for taking to the beach). There is a separate zipped up loose change pocket and a nice little wrist handle to carry the case.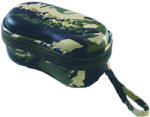 Clearly this case is also a fashion statement. It comes in a variety of patterns and colours, including pink, black, flowery, camoflauge and sunset. It is shaped like a pair of sunglasses - which personally I think is gimmicky, unnecessary and limits the size of the MP3 player. For example, my partner's Sony (which is admittedly quite large as MP3 players go) would not lie flat in the case when plugged into the speaker. For the sake of that little dimple shape in the case, I think this is a design error. You can indeed get your sunglasses, an MP3 player and some loose change in this case - but you might struggle to get your car keys in there as well. If you are young and your parents are driving the car - this might not be a consideration. So size wise I found this case too big to get in my handbag, but too small to carry everything I would want to carry. I was also worried trying it out with my husbands sunglasses, as I thought they would get scratched against any other items I had in the case.
So I guess it's the sunglasses connection that gets my really worried. I'd prefer to wear my glasses on my face, or keep them in their own hard case, and use the Shady Beats case for MP3 player, phone, keys and money. All of these would fit in very easily without the glasses!
But then, I might not be the key target market - which is probably a good 20 years younger than me!
Overall verdict. Absolutely loved the sound, funky looking, great size for a few key bits to take to the beach, robust and hard wearing, but really not keen on putting my sunglasses in here.
This integrated speaker and case is available exclusively from Shady Beats http://www.shadybeats.co.uk/ and is priced at £24.99.