Cube and Home Monitor from Y-cam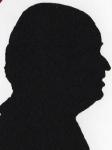 Review controls
Two small cameras with subtle differences to give you security when in and when away from your home, you can view content on a PC or Mac or on a mobile device, you can even have movement alerts sent in an email to you.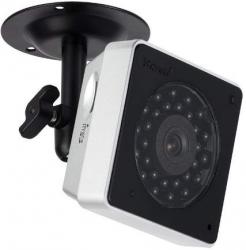 click image to enlarge
Y-cam Cube
Certainly the box is a cube and once the contents have been removed it needs a puzzle expert to replace them all again. Of course unless there was a fault this would not be a process you are likely to carry out.
The camera is 6.5x6.5x4cm with power lead inserted.
You can run it either wired or wireless; however for the initial setup it has to wired.
Unusually these days you need a CD-Rom to install the files from a mini CD. This process is very quick and then you need to finish the setup online.
There is a small multi language Quick Start Guide that has four pages in English. A default user name and password are given but you should of course change the password once setup is complete. Assuming you do not hit problems the information in the Guide should be enough. If not the full user guide can be downloaded.
This unit can inform you of movement but if you have pets it is perhaps better not to as you will be inundated with emails. However if a home or office should be empty then this is ideal.
Images can be captured in HD 1080P and 720P, 20FPS in the former and 30FPS the latter, there are also other lesser resolutions.
You can mount it or use it unmounted although the former is recommended. You will need a nearby power source even if you connect via Wi-Fi, the supplied DC lead is 2.9metres long.
There is a Micro SD slot so images can be stored on the camera. For the initial Ethernet connection a small USB to Ethernet adapter is supplied to allow connection to the Ethernet lead supplied.
It can work in lighted or dark conditions the latter uses Infra Red, images were clear and using the Y-cam website you can log in to check from any device that has Internet connection. You could for instance check on your baby remotely – ideal for nervous parents – or even check to see if the baby sitter is doing their job.
The Y-cam Cube HD is available from the link below for £240.50 with free delivery.
http://www.amazon.co.uk/gp/product/B00AQTY03I?ie=UTF8&tag=gadge0a-21&linkCode=as2&camp=1634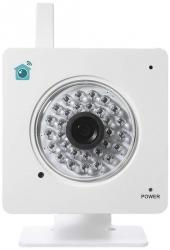 click image to enlarge
Home Monitor
This camera is slightly bigger at 8.5x8.5x4cm. It can be mounted or used free standing. Just like the unit above initial setup must be done by Ethernet but the slightly bigger size means a standard Ethernet port fits into the back.
I liked the setup of this device more as you just connect to the Ethernet choose a user name and password and enter the cameras ID. This is then linked to you.
There is a comprehensive 12 page Quick Start Guide with plenty of illustrations so everything should install without problems.
Just like the unit above you login and you can see your camera from anywhere in the world. You can even link extra cameras.
It can continue to be connected by Ethernet or you can go to Wi-Fi once setup is complete the only proviso is that you have to be within 2.8metres of mains power as this is the length of the lead supplied. You could of course use an extension lead to increase the distance if required.
Just like the unit above it can work in lighted or dark conditions the latter by good Infra Red.
What you setup online determines what information you receive by email, movement or course but remember your pets if you do this. Perhaps more interesting is knowing if the camera is online, offline or has detected a movement can all be noted to you by email. If you have more than one camera give them distinctive names so you know which camera of camera is affected. Of course this will give force positives in say a power cut or when your Internet connection is lost.
The Home Monitor is available from the link below for £148.49 with free delivery.
http://www.amazon.co.uk/gp/product/B008QN6V9W?ie=UTF8&tag=gadge0a-21&linkCode=as2&camp=1634
The full range of Y-cam cameras can be seen on this link http://www.y-cam.com/