Outdoor Hi-Res Camera

The UCAM247 model NC328W-IR-720P is a fixed-focus high resolution Internet camera designed for outdoor use. Described as a "plug & view" unit, one of its most useful features is the ease with which it can set up so as to be accessed from a smartphone either locally or remotely.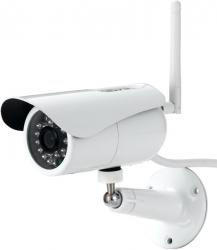 click image to enlarge
White in colour, its cylindrical metallic body is 55mm in diameter and 110mm long and, overall, gives the impression of being very robust. The provided Wifi antenna screws into the rear of the body while the cowl to keep rain off the lens and the IR LEDs that provide night-time illumination projects up to about 35mm beyond the lens.
The mounting bracket, with its ball & socket mount, screws into a hole in the underside of the camera. This mount enables the camera to be pointed in the correct direction and then locked into position. The cable "tails" for power, Ethernet and WPS (Wi-Fi Protected Set-up) push-button are about 40cm long while the power lead is 3m long.
It lived up to its claim as being easy to set up. Following the instructions available on a YouTube video (link provided) it was a simple task to connect the camera to one's router, download the necessary app, and then view the images on one's smartphone. I used Android but, similarly, an app for iPhone is available.
Then, for setting up the camera for use over Wi-Fi and other functions one is referred to the Help section on the company's web site www.ucam247.com from where one can also download the 65 page user manual. Once one has completed this set-up the Ethernet cable can be disconnected and then Wi-Fi or 3G used.
The image quality, both under available light or in the dark when illuminated by its IR LEDs was good. One can have continuous view or, when activity is noted by the motion detection, an image can be sent by email.
Although this camera is very simple to get working initially, in practice I found that it was not easy to align to cover the desired field of view as, unlike a PT (Pan/Tilt) camera which, once mounted and pointed in the right general direction, can have its final adjustment made from the computer, all of the UCAM247 pan and tilt adjustments must be made manually. This is extremely laborious and time consuming (especially if one is on one's own and has to go up a ladder).
This camera is ideal for monitoring an enclosed area such as keeping one's eye on children when they are out in the garden but is less suitable as a security camera. Here, a PZT (pan/zoom/tilt) unit mounted high up out of the reach of potential intruders and then adjusted so that its field of view covers the key areas is more appropriate.
With a list price of £209.99, and available on Amazon at £159.99, this is not a budget product. While it will provide a very useful solution for those who want to use their smart phone to monitor an outside area an, albeit possibly lower resolution, outdoor PZT camera which does not cost a great deal more may be equally suitable.