Canon PowerShot SX500 IS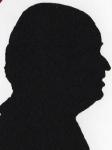 Review controls
The Canon PowerShot SX500-IS is another in the range from Canon, this one on a cursory glance could be confused with a small DSLR unit, it is however a digital unit with excellent zoom as well as other features making it almost a bridge unit.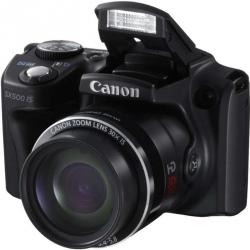 click image to enlarge
The Canon PowerShot SX500 IS measures 12x6.5x7.5 however the lens will come out another 1.5cm as soon as you switch on and under full zoom another 3.5cm.
The unit is capable of 30x optical zoom and the largest image size is 16MP but even at lower image sizes the pictures you take are sharp and have good depth.
The old PowerShot shape is maintained what was the 'AA' battery bay now contains the solid battery and any SD card you use. While the top edges have anchor points for a neck strap I was happy using it without them as the handhold provided by the battery bay means your right hand holds and your finger zooms and captures.
The TFT is fixed and the flash needs to be manually raised and shut down. You or course do not have a viewfinder.
Images can be captured in 16:9, 3:2, 4:3 or 1:1. In 4:3 the L (16MP) is 4608x3456, M1 (8MP) is 3264x2448. M2 (2MP) is 1600x1200 and S VGA is 640x480. In 16:9 L (12MP) is 4608x2592, M1 (6MP) is 3264x1832. M2 (2MP) is 1920x1080 and S is 640x320. In 3:2 L (14MP) is 4608x3072, M1 (7MP) is 3264x2176. M2 (2MP) is 1600x1064 and S is .3MP 640x424. In 1:1 12MP is 3456x3456, M1 (6MP) is 2448x2448. M2 is (1MP) is 1200x1200 and S is .2MP is 480x480.
Video is simpler having only two resolutions 1280x720 or 640x480.
The right side has a rubber bung covering A/V and HDMI connections. The base has entry to the battery bay and also the tripod anchor point, if you use moderate or large zoom use of a tripod is essential because of the amount of lens travel.
The top has the flash that as stated needs to be manually raised it is 2x1cm. The minimum distance from the lens is 6cm this assures you of images clear of flashback providing of course there is no reflective surface in the image. To the right of the flash is a ten position wheel which the novice can leave on Auto until they know more. In front of this is the shutter release and around the outside of this is the wide angle/ telephoto control.
This leaves the back which is dominated by the 6x4.5cm TFT to the right of this are the other controls. At the top is a thumb rest with an instant video capture button beside it. Below this two rows of two well marked buttons split by the ubiquitous five position joystick that has top level controls as well as to control the menu options.
For those occasions when flash cannot be used either because you are capturing through glass or where it is not allowed then do not try using more than minimal zoom as however steady your hold is there will still be camera shake even with image stabilization. If however you use a decent tripod then more zoom should be possible.
Unlike some other units what you see on the TFT is normally almost exactly what your image captured will look like.
A lovely camera ideal for those who have outgrown a slip in the bag unit and who do not have the confidence to progress yet to DSLR, in one advert it is described as a bridge unit.
The Canon PowerShot SX500 IS is available from the link below for £209.99 with free delivery.
http://www.amazon.co.uk/gp/product/B0090GKH5I?ie=UTF8&tag=gadge0a-21&linkCode=as2&camp=1634
www.canon.co.uk/For_Home/Product_Finder/Cameras/Digital_Camera/PowerShot/PowerShot_SX500_IS/