Ricoh CX5 Digital Camera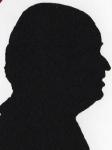 Review controls
A company perhaps better known for photocopiers and large printers but they have produced digital cameras for a while. However this is the first of their units to have come my way, but all decent recent units have similar features.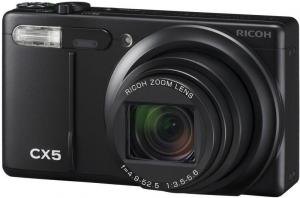 click image to enlarge
Ricoh CX5 Digital Camera is a black unit that is a bit larger and heavier than some. It is 10x6x3cm and it weight is just on 200 grams.
It has a 10.7 optical zoom lens which is probably in the region where you need a wall or tripod to hold it still, however just because the camera has that amount of zoom there is no reason to try and use it on every shot you take.
The lens extends by 4cm from the 3cm width when fully zoomed in. To the right and above the lens is the small 1.5x.5cm flash and my advice is take flash images without any zoom as with it the results will be disappointing in poor light, in dull daylight the flash seems to work well enough, however at night the range of the flash is disappointing.
The right side has a rubber bung to cover HDMI and USB connections. The left side is clear while the base has a door covering the solid battery and any SD card you use. This leaves the top and rear of the unit to describe.
The top has a tiny slightly indented on/off button and to the right of this the shutter release that has the wide angle/telephoto adjustment around it. To the right of this an eight position wheel, for the novice turn to a green camera for a reasonable auto mode. The rear is dominated by a 6x4.5cm TFT display with a column of four well illustrated buttons just to its right together with a rubber thumb grip to the right of this the ubiquitous five position joystick control and below this the green triangle that takes you to play mode to replay what you have captured.
So the real novice needs only to know where on/off and shutter buttons are as well as recognising the two green buttons.
There are a total of nine shooting modes for still images, 10MP 4:3 F, 10MP 4:3 N, 9MP 3:2 F, 7MP 1:1 F, 7MP 16:9 F, 5MP 4:3 F, 3MP 4:3 F, 1MP 4:3 F and VGA 4:3 F. While most have a 16:9 mode these days the 1:1 is unusual.
As far as movies are concerned it is far more straightforward with three modes HDMI, VGA and QVGA the choices.
It's a slightly unusual combination of optical zoom being larger than MP even by just a bit and a far cry from optical zoom being 3X and MP getting bigger by the release, of course most will know huge amount of MP does not bring better images with a lot of professional cameras not having much more than 10-12MP its down to the cameras CMOS that determines the image quality. Here I got some quite decent images even at 5MP which should be plenty to produce a decent A4 image and only should you want to print a portion of the image might a higher MP be required.
However the saying 'you get nout for nout' is very true and while images captured at Auto mode are quite respectable do the work study the 164 page camera user guide and start making choices for yourself and then the images can shine.
I find the UK Ricoh site strange and even the Global one tries to hide cameras away but the home page for the Ricoh CX5 is the second link below.
The Ricoh CX5 is available from the link below for £247.95 with free delivery.
http://www.amazon.co.uk/gp/product/B004LP3K2A?ie=UTF8&tag=gadge0a-21&linkCode=as2&camp=1634