Olympus Pen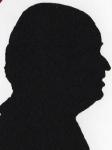 Review controls
Not a writing instrument as you may think from the title, but a DSLR camera, this designed to look like an SLR of a long time ago. It takes brilliant images in daylight; alas I cannot tell you about night time shots as no flash was supplied.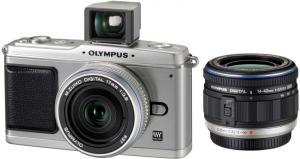 The Olympus Pen E-P1 measures 12x7x11cm with the supplied 14-42mm lens fully extended. It weights 550grams including the supplied neck strap.
It is supplied as standard without a flash, a hot-shoe socket is on the top and almost any flash can be fitted. A small rectangular module is mentioned but at the time of my review one was not available to be sent to me so all my tests were in daylight. This did enable me to take images with a tripod and a longer exposure than I would normally do as I would take the easy option and use flash. Of course there are certain places where flash is not allowed.
As it was designed round the shape of a much earlier unit I am surprised there is no viewfinder only a TFT screen.
Doing a quick run round the unit the top has a slightly recessed wheel with eight positions that allows you to choose your mode including a rather good Auto and Movie. Next to this the flash shoe fitment and three further push buttons, the centre one being larger and this is the shutter release. Either end of the top are substantial fitments for the neck strap. The right side has a flip open door that has a dual USB & A/V out socket and a mini HDMI allowing you to view your HD movies direct onto a TV. The left side is clear while the base has the all important screw for a tripod and the solid battery door that also houses the SD or SDHC card slot.
This leaves the front and the back. The front is where any suitable lens fits and these days looks rather strange as there is no built in flash. To the right of the lens is a leather pad that allows the fingers to get purchase. The rear is dominated by a 6x4.5cm TFT screen to the right of this a line of four well marked buttons a further two buttons are two their right above and below the ubiquitous five position joystick and near the top a scroll wheel to enable you to zoom into images when in review mode. This has six notches to the right going from full screen to 2x, 3x, 5x, 7x, 10x to 14x. Move it left and the notches are four, nine, sixteen, twenty five, forty nine and one hundred images per screen. I suspect that once beyond four images you will see little detail, however move on and you get a month view that shows dates when images were taken.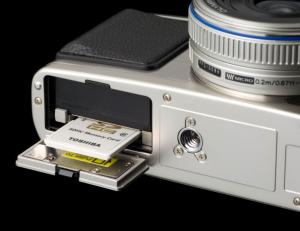 click image to enlarge
Image sizes available are RAW 4032x3024, the other options are all JPG 4032x3024 large and 4032x3024 normal, 2560x1920 normal, 1280x960 normal. You can also take RAW and JPG images at the same time in all four image sizes. While on sizes you can capture movies in HD or SD mode.
A 4032x3024 JPG image is likely to be at least 5MB. A one minute .AVI HD movie is likely to take at least 250MB of card space. I managed to watch then on a PC using Windows Media Player. Of course even better on TV should you own a mini HDMI to HDMI cable, all that Olympus supply is a mono A/V cable so quality is not superb.
A 160 page manual is supplied and this should be able to a competent person off Auto mode quite quickly, however for any novice the Auto mode will take pictures that will make your friends think you have more knowledge than you do.
The Olympus Pen with 14-42mm lens is available from the first link below for £579 including free delivery. Currently their is free flash via redemption.
http://www.jessops.com/online.store/categories/Digital%20SLRs/products/Olympus/pen-76307/Show.html
The link below gives you the whole Pen story from the original Pen to the modern unit, Olympus say it is not a compact, not an SLR but a Pen. The second link has more camera details.
http://www.olympus.co.uk/consumer/pen_start.htm?_s_icmp=cntry_en1nws