Canon Power Shot SX10is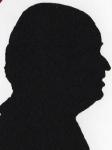 If a full DSLR unit is either out of your pocket or out of your skill set then the next best thing is something like this Power Shot SX10 is. It outwardly looks like a DSLR and has superb 20x zoom on it's built in lens.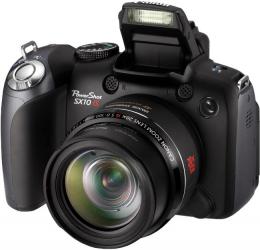 click image to enlarge
You would need a copious pocket as the SX10 measures 12x10x8cm, fully zoomed this adds 5.5cm to the middle figure the width and it weights 670grams. Having attached the neck strap, insert 4x'AA' batteries and an SD card you are ready to go. As with all cameras I find it best to take a few shots with the 'Auto' setting while you familiarise yourself with the location of the controls and how they function.
The front has the 20x zoom lens - with image stabilization - this is 5 to 100mm, when the lens is zoomed a useful conversion scale is printed on it for those used to 35mm. The front also has the built in flash that needs to manually lifted but there is a shoe fitment on the top for those wanting to use an external flash. There are also twin microphones for better sound quality when using the movie option.
The left side has only a small built in speaker and one of the two anchor points for the neck strap. The bulbous right side provides the finger grip around the battery bay the other neck strap anchor point and three doors that hide A/V out, Digital out and SD Card slot. The base has the battery insertion point and tripod screw.
The back has a TFT display borrowed from camcorders that can twist up to 180 degrees to be on the outside but when travelling it can avoid scratches by being face inwards. There is of course also a viewfinder with its own focus to suit your eye. A start/stop button for shooting video five other well labelled buttons and a five position joystick to allow any changes to the default.
This leaves the top and the bulbous extension the latter having the shutter release and the very quick acting zoom control. The on/off button has a small LED built in – green, orange or red – according to battery state. Microphone and Flash button as well as 13 position wheel complete the controls.
A small getting started guide is provided but the novice will need to dig out the CD from the box to read the manual in PDF format, all 289 pages of it, luckily it has a good search providing you know the word to search on.
There are six resolutions available 10MP L 3648x2736, 6MP M 12816x2112, 4MP M2 2272x1704, 2MP M3 1600x1200, VGA S 640x480 and W 3648x2048. Each has Superfine, Fine and Normal compression so 18 possible ways to fill your SD card.
I was amazed when I first zoomed it was very quick and 20x really gets you there. However it is also brilliant when viewing images once taken. As regular readers will know I am a keen jazz fan and take images as most gigs I go to, some musicians are lax as announcing names of tunes and while I often know them sometimes the name will not come, so providing my normal side seating position I can zoom in on the music capture an image and then zoom in on that so in theory that 20x20 a zoom of 400 times and this normally gives a perfectly readable image to capture the title and maybe even the composer if printed.
I am not a huge fan of using a camera to capture video (nor am I, to use a camcorder to capture still images) but since the facility is there I always try it 640x480 and 320x240 are available and providing you are using the TFT rather than the viewfinder a mode is available to let you see how long your card will capture the current movie at the chosen resolution.
Several of my movie efforts –over the years - are viewable on various musicians' websites as of course are a lot of my photographic images; it is marvellous being able to practice my hobby and my passion while reviewing cameras and camcorders. I cannot understand why a quality unit like this come only with 'AA' batteries as standard.
Doing my Internet searches found the Canon Power Shot SX10 is at a best price of £299.99 including free delivery from the first link below.
http://www.amazon.co.uk/gp/product/B001FWYT9U?ie=UTF8&tag=gadge0a-21&linkCode=as2&camp=1634
http://www.canon.co.uk/For_Home/Product_Finder/Cameras/Digital_Camera/PowerShot/PowerShot_SX10_IS/