Canon PowerShot A580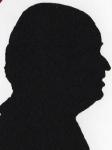 This is a far better camera than it looks, yes it does use a pair of standard 'AA' batteries and the shape and styling is far from up to date but the resolution is fine and the zoom good.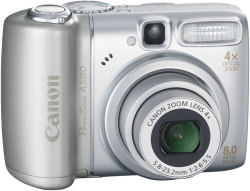 The Canon PowerShot A580 is 9x6.5x3.5cm, the last figure is maximum and only applies at the right side where the pair of 'AA' batteries are. When the lens is extended in use the total width is 6.5cm. The plastic case is a silver/grey colour with the shutter release and lens surround in chrome.
Quite unusually for a small digital camera it has a viewfinder and for those who still prefer this there are not many near entry level offerings that have them. So the rear has a 5x3.8cm TFT display below the viewfinder and to the right side the capture / display toggle the ubiquitous five position joystick and three other clearly labelled buttons filling all but the north west position around it.
The right side has the wrist strap anchor point while the left side has a bung covering DC input, mini USB port and A/V outlet. The base has a tripod screw and the battery compartment access that also stores any SD card. Canon are one of the few vendors that provide a card a 32MB MMC. My normal rant on not providing cards and cases is only tempered by the inclusion but 32MB will not take many 8MP images and as for video how many seconds?
This leaves the top to tell you about, Canon put the zoom/wide angle slider round the shutter button and with the shaped edge caused by the two 'AA' batteries it provides a good hand grip with the thumb doing the shooting. Of course you need to be right handed. Also on top are the on/off button and a ten position wheel.
4x optical is not really entry level (that's still 3x) and while 8MP is close to entry level these days the ISO 1600 is useful (with a tripod), most cameras offer some sort of red eye control. Two other goodies here are face detection and motion sensing.
Canon use a shorthand for image sizes the 8MP 3264x2448 is called L, 5MP 2592x1944 is called M1, 3MP 2048x1536 is M2, 2MP 1600x1200 is M3, 640x480 is S, while 2MP with date stamp has a graphic, finally 3264x1832 has W for widescreen. There are three compression modes Super Fine, Fine and Normal.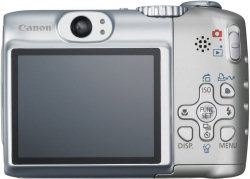 To give all twenty one possible image sizes would take the whole review so I took ten images using M1 and fine and divided the total size and got an answer of just over 1.1MB for each image. On that basis a 32MB card is possible just about okay. However a L at Super fine takes more than 4MB and that means only 7 images to fill the card. So with 1GB cards available at less than a fiver buy yourself a couple.
This is essential should you want to take video as with most Digital Cameras they can capture images at 640x480 and 320x240. Canon have three compression modes 640x480 at 20FPS, 640x480 at 20FPS LP and 320x240 at 30FPS and each of these can be standard or compact, a minute of video in 640x480 standard takes around 70MB of space so with the 32MB card supplied that's less than 30seconds of video.
Still images at a range of resolutions were good, video was okay but if you moved the camera there was some stuttering of image. Having a viewfinder is always useful for those bright sunny days when any TFT is compromised.
All the time you can leave the protective film over the TFT you can probably survive without a case but once it comes off it becomes essential.
Doing my Internet searches found the Canon PowerShot A580 at a best price of £95.30 including shipping from the first link below.
http://www.amazon.co.uk/Canon-PowerShot-Digital-Silver-xOptical/dp/B00131SIAY
http://www.canon.co.uk/For_Home/Product_Finder/Cameras/Digital_Camera/PowerShot/PowerShot_A580/index.asp