Samsung Cameras 2007 Spring Launch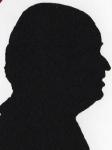 The worst weather – snow wise – for some time in the London area marked the launch of fourteen new cameras from Samsung, some so new they did not even make the press pack as authority to mention them only came overnight.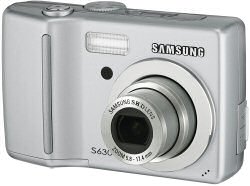 Samsung
S630
I have spoken with a number of well informed people who did not even know Samsung made cameras! Indeed in 2004 they only had 2% of the market. Last year it was 12% and the aim by 2009 is to have 20%. In fact in the compact digital market they were - in one table - number one in 2006 and their NV 10 was named product of the year.
Face recognition is a feature creeping in and some of the offerings shown support this. I am told it works even if the subject is off centre and then exposure will be facilitated for facial tones. A couple of the cameras even have a travel guide built in meaning you may not need a guide book on your holidays for a large part of the world, I am told it covers 2,600 places.
Onto the cameras, first the 'S' series that tend to be 'entry level' and easy to use although some do have quite high specifications. All Samsung cameras have around 24MB of internal memory and also support SD/MMC but due to retailer pressure no cards are supplied. The 'S' range are also only supplied with two 'AA' batteries.
The entry level offering at 6MP (yes 6MP is regarded as entry level) is the S630 and the likely price is only £89, however it still has 3x optical zoom and a 2.5inch display. Available in this quarter.
Next is the S730 this is 7.2MP has 3x optical zoom and a 2.5inch screen it also has anti shake technology the likely price is around £119 available by the end of March.
The S830 is 8.1MP, has 3x optical zoom and an even bigger 2.7inch screen, it supports MPEG 4 video recording and should be available in March, no price as yet.
The S1030 is a 10.3MP offering again with 3x optical and a 2.7 inch screen, also available in March and again no price.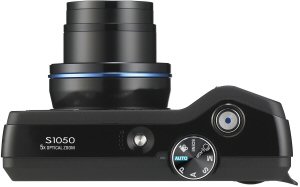 Samsung
S1050
Remember these cameras are all termed 'entry level, easy to use offerings' even the last one the S1050 that has 10.1MP 5x optical a 3inch display, face recognition, red eye fixing, MPEG 4 and 16:9 support, amazingly it is only £229 and available in March.
Now onto the next series all with 'L' tags. First the L700 this is 7MP offering with 3x optical and a 2.5inch screen, this come in an aluminium case should be available this month, no price as yet and it supports MPEG 4.
Next the L73, this is 7MP has 3x optical zoom a 2.5 inch screen. It has MPEG 4 support for video as well as built in Red Eye and face recognition. Should be available this month at only £199.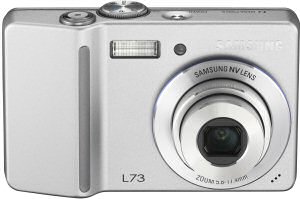 Samsung
L73
The L74W is next and the 'W' stands foe wide angle, this is the first of the models to have the built in guide book. It is 7.2MP has 3.6x optical zoom and a 3inch display. It also supports face recognition, red eye removal, MPEG 4 support and shake reduction. Available in March at £229.
Finally for the L series the L77, this is meant to be the thinnest camera on the market at only 21mm thickness and the optical zoom internal to the camera. The availability will not be till April. It is 7.1MP has 7x optical zoom and a 2.5inch screen. Anti shake technology all the more important with the higher optical zoom and MPEG 4 support.
Next two models in the 'I' series that I am told is aimed at the younger marketplace, first the I7, this has 7MP, 3x optical zoom a 3inch screen that rotates 360 degrees. In the closed position it is an MP3 player. Rotate it 90 degrees and it supports PMP while the full 180 degrees turns it into a camera. This unit also has the Travel Guides built in as well as anti shake technology, red eye removal and it should be available in March for around £249.
The I70 is a 7MP offering with 3x optical zoom a 3inch screen that slides to one side to reveal the controls and this action also moves the flash further from the lens. It also has PMP and MP3 support like the I7. Available in march at around £199.
Samsung
GX10
Now the 'NV' series I am told this means New Vision. First the NV3 it is a 7.2MP offering with a 2.5 inch screen 3x optical zoom it also supports PMP and MP3 and should be available in March no price as yet.
Next the NV11 that is 10MP has a 5x optical zoom a 2.7inch display with ISO up to 1600. Face recognition and red eye removal, anti shake technology and MPEG 4 support, also available in March but no price as yet.
Finally an SLR model that is currently available and I hope to have one very soon to bring you a review. This is the GX10, it's a 10MP offering that not only supports JPG but also RAW. The latter it can shoot at 3FPS it also supports - memory permitting up to 9 fast images. I am told that any Pentax lenses will fit it. The likely price of around £600 will come with two lenses. It will also support dedicated flash shoes and there are two models available from around £300. They also have a range of other lenses available. I am told that good quality HS cards are recommended for this model.
A lot of the models come in black but a few have some colour variations I have not mentioned these as some are still undecided. Apart from the 'S' range all units come with rechargeable batteries. The prices quoted were those given in the presentation and should only be taken as a guide, when I bring you separate reviews I can then mention likely street prices.
Over the coming months I hope to give in depth reviews to a number of the fourteen cameras shown yesterday as and when then become available, first of course should be the SLR GX10 as that is currently available.