Canon PowerShot S80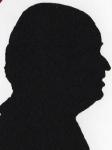 Review controls
This is a small camera but not as light as you may think, it definitely has a solid feel and when you look at the specifications you know why.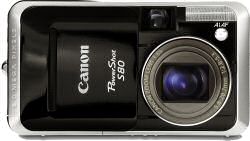 This is an 8mega pixel camera with 3.6 to 1 optical zoom, both figures are above the norm and the feel of the whole unit shouts quality. It is 10.5x4x5.5cm and weights close to 300grams. Lens fully extended adds 3cm to the 4cm width.
The top of the camera has only the shutter control, the left side nothing, the base has solid battery and 32MB SD card behind a slide door and tripod anchor point. Right side has wrist strap anchor point, AV and USB out and 10 position wheel to control shot type etc. If I mention that the front has a slider to cover the lens and flash that leaves only the back for all the rest of the controls. It is dominated by a 5x4 TFT display above this is a viewfinder mounted centrally with two buttons to it's left. Just to the right of the viewfinder is the replay/shoot toggle and wide angle/zoom control. All other controls are arranged around the obligatory rocker wheel and this gives access to menus where everything but the kitchen sink can be controlled.
This is a very powerful camera with a flash effective beyond the range of normal cameras of this type. In fact I used it at a number of indoor events where lighting was not that great, I was more than satisfied with the results normally achieved with the aid of flash often taken several metres away from the subject.
The blurb says pin sharp photos up to A2, well I do not have the printer required to prove or disprove this but I can say I have printed areas of an image at A4 without any pixelisation even when the print is viewed under a glass.
Images can be taken in five sizes 3264x2448, 2592x1944, 2048x1536, 1600x1200 and 640x480. All easily changed from 'func set' button that's the bullseye in the centre of the rocker. Now things get complex, while the camera tells you how many images it can take at the chosen resolution, there are three compression modes for each so while the supplied 32MB card can take 8 superfine images at the best resolution it could also take 29 images at the same resolution in normal mode.
I found that M2 (2048x1536) took excellent images for A4 printing, however do think what sort of images you want, there are a range of special modes setup within the camera to give you help and advice. You can even have automatic red eye removal and lots of other goodies that would make this article far to long. 21 shooting modes and 12 special scenes, however for the novice stick it on 'Auto' until you learn more and you will not be disappointed.
For the more experienced you can get sharp results - even when off centre - and Flexi-Zone allows you to manually select an auto focus area and adjust exposure. It is even possible to focus as close as 4cm. There are nine different white balance settings but enough of the items to make the expert salivate it is possible to get great images just with the 'Auto' setting and only as you learn - RTFM - progress and grow into the camera.
Doing my Internet searches found it at just under £300 from the link below. This may not sound that cheap but it is a great camera.
http://www.purelygadgets.co.uk/showproduct.php?prodid=1396
http://www.canon.co.uk/for_home/product_finder/cameras/digital_camera/powershot/powershot_s80