HP Officejet 150 mobile All in One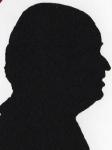 Some say size is important, certainly for this All in One lack of size is vital as this is a portable unit that has a battery for when mains power is unavailable. It connects via Bluetooth or USB so no leads are required for the former.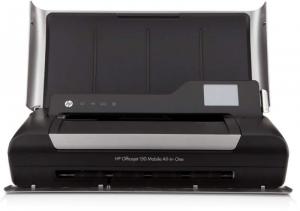 click image to enlarge
It is 34x19x8cm when closed, it weights just a tad over 3kilos. Lift the lid and the 8cm height becomes 38cm with paper loaded.
Once the lid is lifted the small touch screen needs to be lifted 45degrees and that is about it. If you are using mains power then the DC lead fits in back left and the USB lead connects back right, there is also a USB port beside it.
The 'Home' screen has just three options, Print, Scan or Copy. Touch any of the three to proceed to more detailed screens.
The page feed requires you place items on top of the unit face down and wait for a note to tell you it's in position, it then feeds towards the back and out in front of the paper waiting to print, I was sceptical at first but it works well and certainly ideal should you be using it in your car or anywhere with a reduced amount of space.
Scanning however is not fast and my tests a full page scan with a PDF being produced on the PC or notebook took 84seconds. You can also scan to a USB stick so you can process further when back in your office without the document.
A standard copy that of course does not require the PC to be connected took 60seconds still not fast but quality was fine.
As far as printing this was revelation as the nonsensical 200 word A4 document printed in fast mode came through at an amazing 20PPM. The quality even in fast mode was quite acceptable and not in the least grey in colour.
Printing the more normal 1500 word document – spread over four pages – came through at a still acceptable 12PPM.
It can print A5 borderless, so should you want to print an A4 photo then you will have to accept it will have borders and this took 345seconds, again the quality was fine. This is a two cartridge four ink offering and of course the cartridges are not huge.
The paper tray is stated to hold 50 sheets I was not happy much beyond 20 but this is not a unit to be used to print long documents.
The Bluetooth – version 3 – allows you to print documents from your phone, this includes Blackberry and Windows Phones while mobile.
The battery is said to be able to print up to 500 pages per full charge, it certainly worked but I did not have the required time/ink to test this fully.
It would be nice if other such units publish power consumption figures, for this unit they are 65watts (max) 22watts printing, 6.4watts standby and 3.2watts sleeping and finally with manual off .4watts.
There have always been a few 'portable' printers around, however as far as memory remembers this is the first 'portable' All in One I have reviewed. As these will never be huge sellers the price is always higher than larger units.
Doing my searches found HP Officejet150 Mobile at a best price of £232.99 including delivery.
http://www.amazon.co.uk/gp/product/B008QBEBJQ?ie=UTF8&tag=gadge0a-21&linkCode=as2&camp=1634