HP Photosmart D7160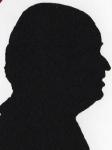 This is a six ink printer, it is by no means small – in fact many All In Ones are smaller – but despite the width and depth the lack of height can make it suitable for a strong shelf.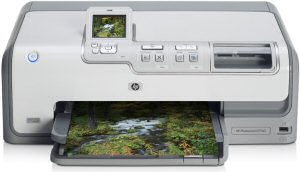 The above may sound confusing so it may become clearer when I say it's 46x40x16cm and as this includes the plugs into the back and the paper tray in the base to extra height is ever required. Many multi function unit are smaller as far as width and depth are concerned.
This is a six ink unit with two shades of red and blue, a yellow and a larger black. However you can still do quite a lot without involving the PC as it has a TFT display, card slots and Pict Bridge connection for direct printing from a lot of digital cameras.
The front of the top has ten buttons plus the five position joystick as well as the 5x4cm TFT display and a clear plastic cover that curves over the four card slots. This enables a card to be left in when switched off. This could be useful if you are disturbed while printing but equally it could mean you pick up your camera when next you venture out only to try to take an image and find no card is in the camera.
The A4 paper tray is slightly spring loaded so slips back nicely in place once paper is loaded. The tray however is small (stated at up to 100 sheets) I struggled to get half that in. Above this is a 15x10cm tray where you can leave sheets in place while using the A4 tray. The mechanism automatically pulls it back when you select it however should you do so without sheets in it the noise is horrible.
The output tray - shelf - is said to hold 50 sheets again I struggled once you get only a short way towards that figure. Printing and editing from the printer direct from card and camera has a nice easy to follow menu system and it works well, the choices are more limited than from the PC but what it does it does without any problems.
As a standard printer I was pleasantly surprised at the speed doing the 200 word document I got 22PPM in fast draft mode, it was black text and perfectly sharp and clear. Printing the more normal 1500 word document spread over four pages I got all but 17 PPM. Both these figure were excellent until I looked at the claimed speed! Be warned in the fast draft mode it is noisy and the pages are really spat out.
I could not believe the claim of 15seconds for a 15x10cm image the best I got was around three times that, in fact to try to be fair I asked for 6 of the same image in case the delay was processing from the PC and these were delivered in 270 seconds and that is indeed 45 seconds.
Photo printing is really quiet in fact I had to put my ear onto the printer to hear if it was in fact printing an A4 borderless sheet printed in almost exactly 180seconds the quality was stunning but the edge was still slightly tacky. Printing four 9x13 images borderless on a single A4 sheet took 190seconds, the far edge was tacky but again the quality of image and the depth and sharpness was stunning.
For the price of this unit you can purchase many All In Ones or Multi Function Units and some will be smaller in overall dimensions. The six inks do give excellent quality and should you need to put it somewhere where height - or lack of it - is a problem this is ideal. It is a fast and extremely good photo printer. A good text printer if rather noisy in fast draft mode.
Doing my Internet searches found it at a best price of £77.
http://www.amazon.co.uk/gp/offer-listing/B000HXDLB0
http://h10010.www1.hp.com/wwpc/uk/en/ho/WF06a/5043-5047-5287-5287-12564514-12564608.html