Egyptian Expedition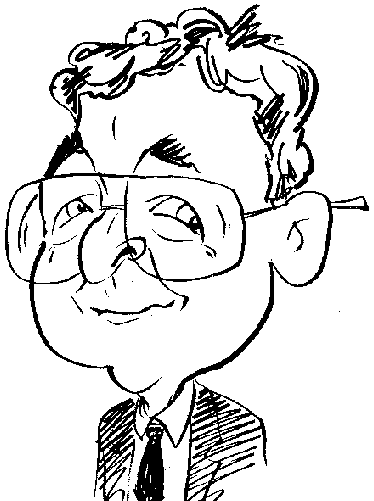 Just how good are your observation and puzzle solving skills? An amazing adventure sets out to test these attributes.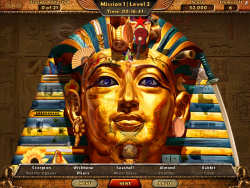 New from PopCap Games is Amazing Adventures The Lost Tomb. In this game you have been placed in charge of an expedition to search for the Lost Tomb of Egypt. This task will involve solving many puzzles as you undertake 20 missions and visit 22 unique Egyptian locations.
The game has two game modes although only the first "Find the Lost Tomb" will initially be accessible. You will need to discover the full complement of 21 scarabs hidden in various locations before the "Secret Game" is opened for you to make use of your puzzle solving and observation skills. I will return to the Secret Game a little later.
At the start of each mission, which must be completed in a pre-defined order, you are set the task of identifying ten items within the location. While some of these items might be rather incongruous to the location, such as traffic cones and radios found within a sunken temple or a cave painting, often the scenes are so clutter that this is not an easy task. Not all the items are listed by easily recognisable names. In some cases they are more clue-like such as ribbet for a toad and wake up for an alarm clock while others are referred to by their American designation such as clothespin for clothes peg.
A "hint" feature can be used to locate particularly well hidden items but you then loose out on the bonus award of extra points for finding all the items unaided. Each scene will also contain a scarab that, if found, will count towards the total needed for entry into the Secret Game. The "hint" feature will not help identify the location of a scarab.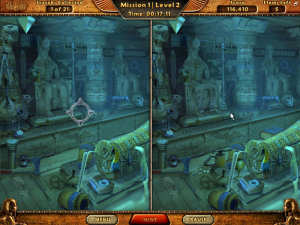 After completing the initial task of discovering ten items, you will then need to solve other types of puzzles, within a time limit, in order to move on to other locations and complete each mission. These subsequent puzzles, which follow every successful discovery of ten items, include jigsaws; switching blocks to build up picture; pelmanism as pairs of images are matched using different criteria; and identifying differences between two scenes. The conclusion of the twentieth mission brings you to the Lost Tomb and another couple of puzzles that need to be solved before entry is granted.
The Secret Game is best described as a puzzle endurance test. You are given the option of revisiting all the various locations in whatever order you wish. These locations include an excavation site, crypt, oasis, sphinx, pyramid, gold mask and archaeologist tent. Each location contains between 70 and 97 items. Initially you will have a list of just ten items and as each one is found then it will be replaced by another item that needs to be found. Hints are available and you can also take a break and return to a location later to carry on from where you left off.
As usual with PopCap games you can download this game and play it for 60 minutes before making a decision whether to purchase it or not. The full, unrestricted version will cost £14.95. This graphical puzzle game with intricate scenes requires a Pentium 350MHz processor with 75MB of RAM and DirectX 7.0 running Windows 2000/XP/Vista.