Wall Racer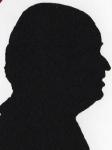 This was one of five things that I requested from one of the range of Christmas In July events. I was told they would go on sale in September however at the time of writing in October this is the only one of their units to arrive with me.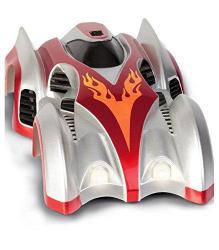 click image to enlarge
This is a quite light remote control car that can travel across a solid floor or with a change of a setting on it up walls or for that matter across ceilings.
The car is 13x8x4.5cm and weighs only 57 grams. It is charged from the rear by the supplied 60cm yellow USB lead. The control box is 14x7x5cm and is powered by six 'AA' batteries (not supplied) it weighs 234grams; all dimensions given both for the car and control unit are maximum figures.
Beside the battery charging point on the rear of the car is a three position slider switch wall/floor/off.
While the care has a wheel at each corner it is driven by two hidden rubber wheels front right and back left.
There are what look like two joystick controls on the control box but they are simpler than that forward and back on the left and left and right on the right control.
The base of the control box is where the batteries are inserted; this is then held shut by a small Philips screw to stop fiddling young hands easily removing them.
The car will work on solid floor are on 'no pile' carpets. While I said ceilings above the manufacturers do not claim ceilings only walls but as ceilings are less likely to have obstructions I tested it on both walls and ceilings. You need to place it on a wall with motor running so that suction below its narrow underskirt will hold it in place.
I recently reviewed an internal drone for kids – no I have not lost my marbles – it is safe, as is this car being light even if it does fall which it would it the battery runs out while in use being like it is unlikely to cause damage.
The car has LED lights for headlights that show singly when the left or right control is used and as a pair when going forward or in reverse. There are a pair red tail lights that work as well.
There is a seven language A5 four side multi language sheet that explains everything including the fitting of batteries.
This is stated for use at '8+' my own guesstimate would be half that.
Just like the drone I mentioned it teaches the child hand coordination, in the case of the wall racer to make it go left and right whilst still going backwards or forwards, while I made it work on a no pile carpet in floor mode it really works best on hard flooring.
This would make a good Christmas Present just remember you also need six 'AA' batteries.