View Master Virtual Reality Starter Pack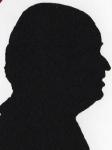 When I first read the press release I thought I remembered the View Master name from the dim and distant past with a stereo projector of images from cards. This is a somewhat different idea that uses a viewer face but the images are 360 degree around a feature.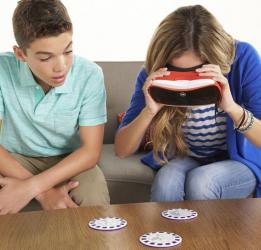 click image to enlarge
You get a quite well make headset which from the front looks like quality ski goggles, the rear has rubberised eye pieces to take away external sights. On the right side is a slider, the starter pack comes with a 9cm circular disc that you need to focus on in order the view the contents. However all these parts are dumb as they rely on a SmartPhone and App to activate the content each time you go on an experience.
I hesitate to say this is for a child, but the '7+' logo on the pack makes me say it. Trying to remember the time when I was in single figures is hard but I do not think this would have been my toy of choice.
Another reason I wonder is that the setup is very fiddly with more rejections than successes.
You need to link the disc with the phone before putting the phone in the headset having done that the images are excellent and of course 360 degree so while you hold the unit to your head and turn so does the content.
On first look you hold your head around 25cm away from the disc and then you are able to view.
I only tested this on Android but as the iOS icon is on the box it may well work with Apple devices.
The phone I used was a Moto G which is not among the listed phones but once the initialisation problems were overcome it worked fine.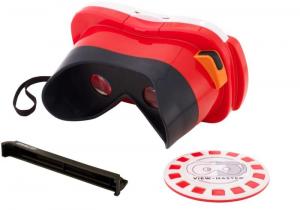 click image to enlarge
Opening the headset to insert the phone was tricky and it obviously a known problem as its listed high on the website with advice. My phone fitted securely inside and providing you get the orientation correct all should be fine.
I was also sent Add On packs which can be purchased separately and these have an added security level in that you have to get it to recognise a supplied card before you stare at the disc to see Space, Destinations or National Geographic Wildlife.
You will gather that I had problems and I feel that most children would give up – unless children have changed a lot since I was one – very quickly.
Where it could be useful is for someone planning to visit a destination enabling them to get the 360 degree view before going to know how to approach something.
The headset could be improved by having a strap to hold it in place. The App could work in a different way to mean less faffing about trying to focus and authenticate. In my opinion aiming it at children is the wrong market, I saw something demonstrated a year or so ago that was aimed at the travel market which I think would be where to aim it at.
The View Master Virtual Reality Starter Pack is available from the link below for £22.99 with free delivery.
http://www.amazon.co.uk/gp/product/B011EG5HJ2?ie=UTF8&tag=gadge0a-21&linkCode=as2&camp=1634