Supra KeySafe C500

Review controls
The Supra KeySafe C500 is a secure key box that, when installed outside a house, provides a safe and secure means of holding keys and yet making them accessible to authorised people.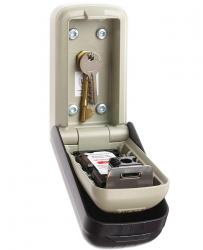 click image to enlarge
External key boxes are increasingly being used as a practical means of ensuring that keys are available as and when needed. This may be for a carer who needs to come in daily, the decorator who needs to get into the house when the home owner is at work or even to rescue the home owner who has locked themselves out.
While the principle of having keys in a readily accessible box protected by a combination lock is well known very few, if any, provide the level of security offered by the police accredited C500 which, it has been stated by the supplier, has undergone vigorous attack tests to achieve the independent security rating, LPS 1175: Issue 6, Security Rating 1 This standard has been devised by a panel of experts including those from the Association of British Insurers, The Association of Chief Police Officers and the Home Office. In addition it has achieved Police approval through Secured by Design as a product that can help to reduce crime. Under these circumstances, I feel that actually carrying out tests myself of its robustness would be pointless.
The C500 is fawn in colour and roughly 150mm high x 80m wide and projects about 65mm from the wall upon which it is mounted. Consequently, it is relatively unobtrusive – especially when the supplied neoprene cover is in place. Rather than the code wheels that are employed on a great many locks, it has 12 push-buttons which provide over 4,000 possible combinations. They are numbered 0-9 plus A and B and are arranged in two vertical columns. Numbers, by the way, can be set in any order.
In addition to the push buttons there is the operating lever which is used to lock/unlock the safe and the clear code lever. If one makes a mistake in setting in the code, just slide the clear code lever and start again.
Having keyed in the pre-set combination, one just needs to rotate the small lever handle clockwise to withdraw the bolt and so open the key safe. There is a hook inside which can accommodate up to 6 keys, dependent on type and size.
On closing and locking the door the actual combination number is cleared completely. This is unlike those key boxes with the rotating dials where one has to make the effort to deliberately return all the wheels to zero each time so as not to leave any hint for a potential criminal.
The unit is designed so that the door falls open automatically when not locked. This ensures that the safe cannot be left in an insecure mode with the door shut but not locked. Another safety feature is that the locking knob will only operate when the correct combination has been set – at all other times rotates freely without retracting the bolt.
When the lid is open the combination panel, with its twelve setting buttons, is exposed. To "set" a new code the button associated with each chosen number must be rotated using the plastic card provided. It is recommended that one uses a code which is 7 or 8 digits long. As it only takes a few moments to change, a new combination can be set to provide someone with one-off access and then changed again subsequently when that need is over.
The C500 is solidly made from a zinc-based metal casting and is supplied with four long special masonry screws. KeySafe stresses that the C500 must be installed into brick or dense concrete and not breeze blocks or mortar. This is because correct installation forms part of the Loss Prevention Standard certification and police approval accreditations. Installing the C500 should not pose any problem to the majority of DIYers as all that is really required is a power drill and a suitable Torx screwdriver.
Available directly from keysafe.co.uk for £59.94 or from Amazon at £69.90 the Supra C500 is appreciably dearer than many other keys safes. However, it is easy to use and, as it is police approved, it is likely to be looked upon more favourably by one's insurance company than many other products on the market and could prove a boon (or could even be a life saver) on those occasions when you need to provide immediate access to your property.