Sennheiser Momentum Free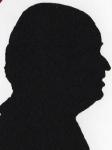 For those whose preference are earbuds over headphones quality brand Sennheiser have now several items in this category, here a set of buds that use Bluetooth so they fit in the ears and the only connection is that between buds that goes around the back of your neck.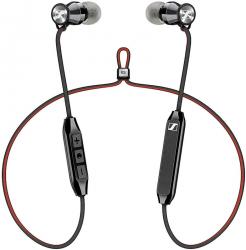 click image to enlarge
As the buds go that little bit deeper in the ear than with standard earbuds it is very important you choose the correct size from those offered. By going that bit deeper the sound has a bigger area of the ear to work with.
The version of Bluetooth is 4.2 and the buds are said to give you up to six hours of time between charges, I got close to eight hours on one charge and the others were at least seven hours. I think the volume you play things at has a small effect and valuing my ears I tend to keep the level reasonable.
There are plenty of cheap earbuds around but they will not be precision built and have stainless steel sound tunnels.
Those into their music will know the word lossless, it means that nothing is taken away between the original and what is delivered. Exactly what MP3 is not as that formula is around 1/10 of what was originally laid down. So in order to get the best from these earbuds give them some FLAC or at the least WAV sounds and you will see that earbuds are not necessarily to poor relations of quality headphones.
In the box are four pairs of silicon earbuds XS, S, M and L. If you have too large a set of buds then your ears will swell up and the buds will become uncomfortable.
You also get a leather carry case and a USB charging cable.
As the lead connecting the two buds goes round the back of your neck the controls will be at the side of your throat, the three button on the control box enable answering calls, reducing and increasing volume and you can also go forward and backwards in any playlist.
While you can use whatever music App your SmartPhone has there is a specific one from Sennheiser that is available on the iOS or Android store.
The flat lead connecting the buds together is black and red and for those with small necks any excess lead can be tightened up via a supplied clip.
The control box has a good quality microphone that should avoid the need to pick up the cable to let your caller hear you clearly at it sits on the side of your neck and not half way down your chest.
The price may put some people off but Sennheiser is the one 'known' brand stocked by high end audio shops so while these are not an impulse buy they will not disappoint sound quality wise.
The Sennheiser Momentum Free M2 IEBT SW are available from Amazon £159.50 and more technical details etc. are available on the Sennheiser site.